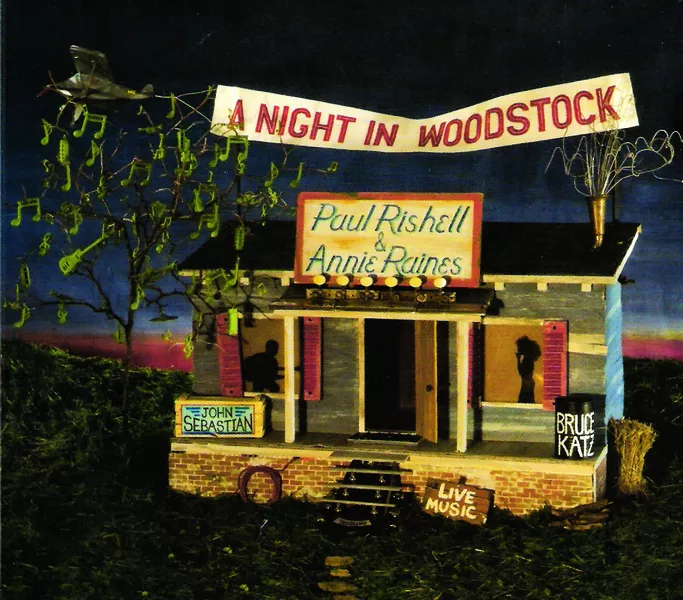 A Night in Woodstock
is just that—a live recording of Paul Rishell and Annie Raines ripping it up at the now defunct (again) Joyous Lake. The gig, and the subsequent album, came about by chance. Todd Kwait was looking to capture Rishell, Raines, and local boy John Sebastian on celluloid for his 2007 jug-band documentary
Chasin' Gus's Ghost
. But what started as a simple affair turned into something more, and, since the machines were running, the entire show was captured for posterity. Blues fans are all the luckier for it.
Rishell has a rich, malleable voice that seems comfortable quoting Blind Boy Fuller's delicious "Custard Pie," echoing Tommy Johnson's spooky "Canned Heat," or grooving through the singer's own "Blues on a Holiday." He's also a nimble guitarist who can clang a National steel body with the best of them. Raines, for her part, is a wailing harp player who can easily keep up with, well, say, Sebastian. That's no mean feat. Unfortunately, as a vocalist she's not as strong, which makes "Got To Fly" the album's sole unconvincing track.
Rishell and Raines are also joined here by keyboardist Bruce Katz, guitarist Chris Rival, and the rhythm section of bassist Reed Butler and drummer Billy MacGillivray. At its best moments, particularly on Jerry McCain's "Bad Credit" and the closing double-harp workout "Orange Dude Blues," A Night in Woodstock comes awfully close to capturing the intangible raw energy of a sweaty, small-club show. www.paulandannie.com.