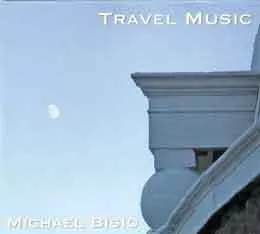 Michael Bisio Travel Music
(2011, Independent)


Travel Music
, bassist, composer, and educator Michael Bisio's first solo release, shouldn't get lost in the cartful of recordings he's appeared on thus far this year: pianist Matthew Shipp's brilliant
Art of the Improviser
, saxophonist Louie Belogenis's
Tiresias
, pianist Bob Gluck's
Returning
, and a few others (and the year's not over). Recorded at Karl Berger's Sertso Studio in Woodstock, six of the eight compositions were written by part-time Upstater Biso and reflect a relaxed tempo of playing, as well as of his temperament. They're not as much compositions as they are narratives. In an almost 30-year career, a journeyman's reflections on the music he continues to produce.
Bisio says he was ready to make
Travel Music
last year even as he immersed himself in the projects of others. "Livin' Large," he says, was written "in real time" during a CIMP Records session with a quartet. He performs with wiry energy that smoothly dissipates into the melody at the end. The solemn title tune holds a respect for the journey, "more so than the destination," as demonstrated in Bisio's patient delivery of each phrase. Whether bowed or plucked, there seems to be no end to the lyricism in his playing. His version of John Coltrane's "Alabama" is more evidence of this, as is his sensitive interpretation of Charlie Haden's "Human Being." Michael Bisio's
Travel Music
adds to his reputation as one of the most distinctive bassists in creative music.
www.michaelbisio.com
.