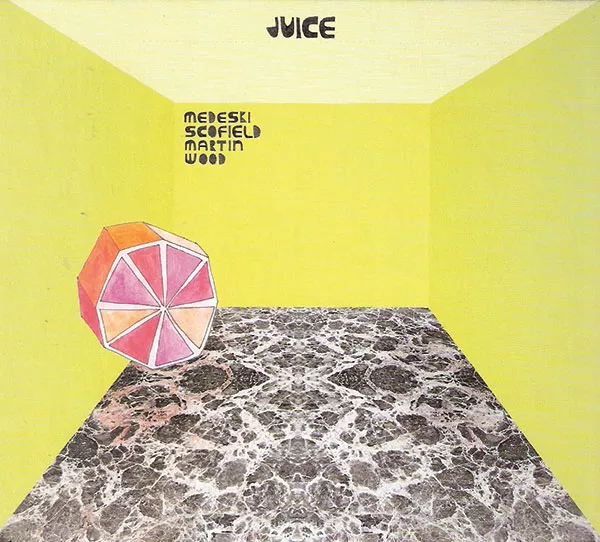 Medeski, Scofield, Martin & Wood Juice
(2014, Indirecto Records)
Neither Medeski, Martin & Wood nor guitarist John Scofield are strangers to psychedelia, but Juice, their third studio collaboration, harkens back to what many consider to be the genre's first wave; if you've ever listened to the legendary Nuggets LP (or its superior box-set incarnation), you might know what we mean. "Juicy Lucy," the album's fourth track, is a delightful mashup of the Kingsmen's "Louie Louie," the Young Rascals' "Good Lovin'," and a number of other early-to-mid '60s garage classics, all set to the kind of Latin beat that recalls Mongo Santamaria's version of "Watermelon Man" (and a little Horace Silver, perhaps, just for good measure).
Juice contains a number of standout originals. One of them is Scofield's delicate "I Know You," which features a lyrical and truly remarkable solo by Woodstock keyboardist Medeski, who shines all over this disc. Saugerties's Chris Wood, who is always solid as a rock, plays as tasty a bass line here as this reviewer has ever heard. Similarly, his "Helium" is completely in the pocket, a James Brown-inspired groove that showcases Scofield's angular solo. Nevertheless, it is the covers that close the album that make it really worthwhile.
Scofield illuminates the Doors' "Light My Fire" with an incendiary, Hendrix-influenced solo, while Wood and drummer Billy Martin lay down a deep groove. Their take on Cream's "Sunshine of Your Love" comes directly from Jamaica circa 1970. The longest cut on the album, "Sunshine," gradually morphs from reggae to dub, stretching out in the manner of the old 12" Trojan singles. The album closes with a version of Bob Dylan's "The Times They Are A-Changin'" that speaks to the changes that have occurred in popular music since Dylan committed the song to wax. Mmw.net.