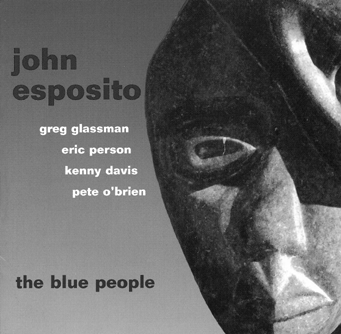 One beautiful thing about ensemble jazz recording is that the musicians truly have to play in the same room at the same time. Such kinship shines through on John Esposito's latest quintet release, The Blue People, on which the pianist is joined by a well-seasoned cast: Eric Person on saxophone, Greg Glassman on trumpet, Kenny Davis on bass, and Pete O'Brien on drums.

These nine tracks, all Esposito originals, play like a history of jazz, recalling the brilliance of some of the genre's greatest groups. The opener, "Boppin'," swings with the creative lean of Gerry Mulligan's best work, while the off-meter (7/4? 6/2?) "Just Friends" recalls the many moods of Mingus. Esposito pays tribute to Duke Ellington on "Late November," as his melodic fills flourish under Person's soaring lead on the melody. Glassman's tone has matured greatly in the last five years, and here he hits many far-reaching notes and ideas. The airtight rhythm section of Davis and O'Brien is only put to the test when Esposito's lightning-fast runs threaten to get ahead of them. Esposito, who also teaches jazz classes at Bard College, has played alongside some of the area's best jazzmen, including Dave Holland, Ira Coleman, Hugh Brodie, Roswell Rudd, and Jeff Siegel, who drummed in Second Sight, an Esposito quintet formed in 1985.
www.sunjumprecords.com
.
—DJ Wavy Davy