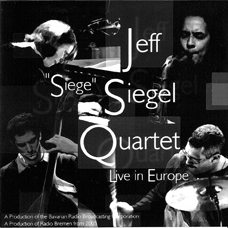 Jeff "Siege" Siegel Quartet Live In Europe
(Artists Recording Collective, 2008)
Live in Europe exemplifies the expression of parts being equal to their sum. Each artist—drummer and leader Jeff "Siege" Siegel, tenor saxophonist Erica Lindsay, pianist Francesca Tanksley, and bassist Danton Boller—contributes humbly to this trove of engaging musical dialogue. The release is comprised of six tunes cherry-picked from two live radio recordings from 2005, done while the quartet was on tour.
"Elvin's Circle" captures and releases drummer Elvin Jones's spiritual high energy to the wind.
Lindsay steps into the role of the various saxophonists that Jones had sparred with in his career—Joe Farrell, Sonny Fortune, Frank Foster, and John Coltrane—and runs the tune smooth. "Shifting Sands" shuts the door and dims the lights. Lindsay is romantic without the candy and flowers. Her notes are like ink, bleeding evenly through Boller's rounded bass notes. "Stealth" takes on a number of personas in a moody 3/4 time and in a rousing 4/4 swing. As the piece reverts back to 3/4, it gathers energy from Siegel's freestyle solo. Shirley Horn, a singer whose very presence evoked elegance as she spoke of the pathos of life and love, is exalted in "Remembering Shirley," a gorgeous blues written by Siegel, who also coleads the Stevens, Siegel & Ferguson Trio. Lindsay and Tanksley have a soulful rapport that is dutifully supported by Boller and Siegel. So when do we get to hear the other performances from the two radio dates? We'd like to continue the joy we find listening to Live in Europe. www.jeffsiegel.com.