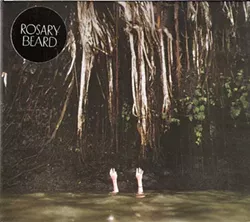 Rosary Beard, Halfmoon Fever, Independent, 2012.
Halfmoon Fever was the perfect companion for a recent Thanksgiving eve trip Down South. It was the longest drive I had attempted alone with my five-year-old. With a couple hours to go, an extremely rare request for "quiet music, Daddy," came from the backseat. I had a vague notion that Rosary Beard's music fit the bill and popped it in. My daughter went out like a light. I, on the other hand, was kept wide awake by two thinking and methodically intricate acoustic guitars courting the late November moon and brain dancing between the headlights, asphalt, and the whites of infinite domino lines. The perfect harmonic and visual moment was provided by Hunter Sagehorn and Matthew Loiacono of Troy, the songwriters and guitarists on Rosary Beard's debut record.
The music, although meticulous and choreographed, is not stuffy; rather, it is organic and inviting, warm and welcoming. The kind of record that could alternate as background for a post-Christmas dinner serving of tea and crumpets or a contemplative and focused listening session by a discerning aficionado with an ear for the nuanced melodies of instrumental guitar work. The 10 songs were recorded live in a historic Troy ballroom, and were tastefully mixed by Troy Pohl (Sean Rowe, Kamikaze Hearts) and mastered by Paul Gold of Salt Mastering. Both artists of postproduction pay homage to the music's spirit by staying out of the way and nurture the natural feel.