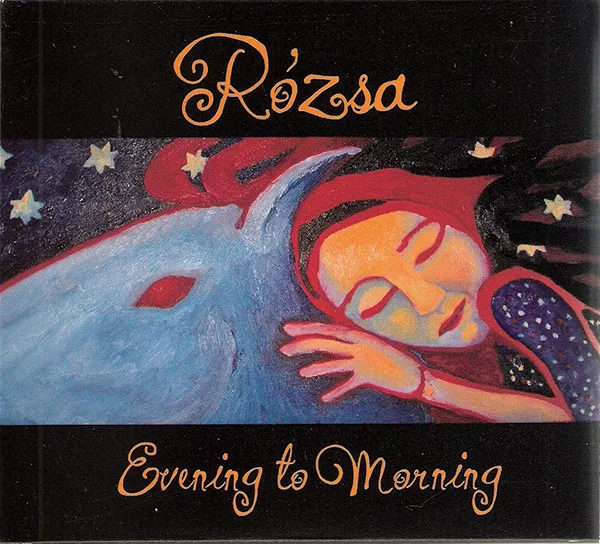 Rosendale-based Rozsa (Hungarian for "rose") transports listeners to another time and place through their exuberant and lamentable interpretations of the street music of Old Eastern Europe on this eclectic 13-track recording. A perfect mix of moody ballads and pieces that are spritely and danceable, Evening to Morning showcases the talents of three players: Czech Republic-born Mirko Gabler on guitar, harmonica and vocals; Hungarian Katalin Pazmandi on recorder, violin, and voice; and local favorite Fre Atlast (the force behind TRANSnDANCEnDRUM) on voice and percussion.
Update Required
To play the media you will need to either update your browser to a recent version or update your
Flash plugin
.
The CD begins with "Fa Nye Mama," a traditional, rollicking Romanian instrumental featuring Gabler's perky guitar finger picking and Pazmandi's spirited recorder. Another instrumental is the Jewish traditional ballad "Yismekhu," which also utilizes guitar and recorder. Listeners are introduced to Pazmandi's intuitive vocal gifts in "Libamaj, Kacsamaj—Nem Kell a Szoke," a Hungarian gypsy tune that spotlights whistling, guitar, and percussion through various tempo changes. The gypsy trad "Mamo Dado" brings attention to the vocal harmonies of Gabler and Pazmandi, backed by rapid guitar stylings, as does another gypsy trad tune, "Sakorati," which is heavily charged by Atlast's skilled percussive beats. On "Beltz," a pensive Yiddish ballad from Poland, Pazmandi's vocals are highly charged and heartrending. "Dzav Me Dromeha—Sar Me Kere," another exhilarting gypsy tune, picks up on lively vocal harmonies with jovial guitar and percussion. "Como la Rosa" is an affecting ballad hailing from the Ladino (or Sephardic/Judeo-Spanish) tradition. Rozsaband.com.