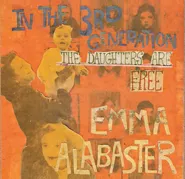 It's clear that Dinah Washington, Ella Fitzgerald, and Sarah Vaughan have worked their way into Emma Alabaster's DNA, as she exudes a similar vibe of melancholy and nostalgia. But Alabaster's far-out twist on emotive jazz/blues vocals is sweetened with one compelling element that was not theirs: She simultaneously plucks out her wistful mood on upright bass. Nonetheless, the heady fare she presents on her seven-track debut CD isn't just for jazz fans. Alabaster summons thought-provoking spoken word on generational history and race into her compositions, with family members even providing source materials. The opener, "In the 3rd Generation," introduces Alabaster's lone bass before she slides in on elastic vocals, pondering her mother-daughter bond; drummer Jim Bertini, sax player Alex Carter, and guitarist Jonathan Nocera later take over with experimental, idiosyncratic improv. "What You Called 'This Longing'" finds Alabaster speaking poetic angst over an upbeat, anomalous musical
throng, eventually restoring to songstress mode. "Here's the Way It Goes" is a curious piece, a runaway-train instrumental with a mysteriously compelling conversational background track. Laptop artist Ian Turner and Rachel Sanders also contribute vocals. This musical memory collage is for the fearless poet, the judicious savant, or, simply, the inquisitive listener who is ready for the next unorthodox musical journey.
www.emmaalabaster.com
.