The sticker on the jewel case of the Casket Architects' new long player gives the listener ample aural warning: "Sci-fi death metal." A glorious, blazing sprint of thrash guitar, squelchy synths, and battering-ram drums, Future Wounds will make your speakers bleed. Traversing the sonic borderline between art-metal, early hardcore, and industrial music, the Caskets grab on by both lapels and don't let go. Future Wounds is the Orange County-based trio's third album and second with Austin, Texas-by-way-of-Kingston label Altercation Records. The band has been thrilling local audiences with a pulverizing live show for the better part of the last decade. This release, paired with a slot on this summer's Warped Tour, should go a long way to spreading their ear-piercing gospel beyond the Hudson Valley.

Front man/guitarist Mike Shaw's primal scream is particularly fearsome. His raw, brittle vocals seem perpetually on the verge of combustion during the nearly 36-minute album, and are all the better for it. Evan Schlomann's melodic bass lines give the songs that manic punk momentum, while drummer Anne Terror supplies the big and battering beats. The X-factor in the band's sound, counterpoint to the high-decibel assault, is the electronic synthesized lines that envelop the grinding core of the sound. The eerie whine and alien bleeps are seamlessly and effectively deployed on songs about asteroids and extra terrestrials wielding proton beams. If you dig the misanthropic sounds of Skinny Puppy, Lost Sounds, or the Misfits, give Future Wounds a spin. You won't be disappointed.
www.myspace.com/casketarchitects
.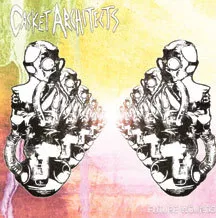 "Future Wounds" by Casket Architects.