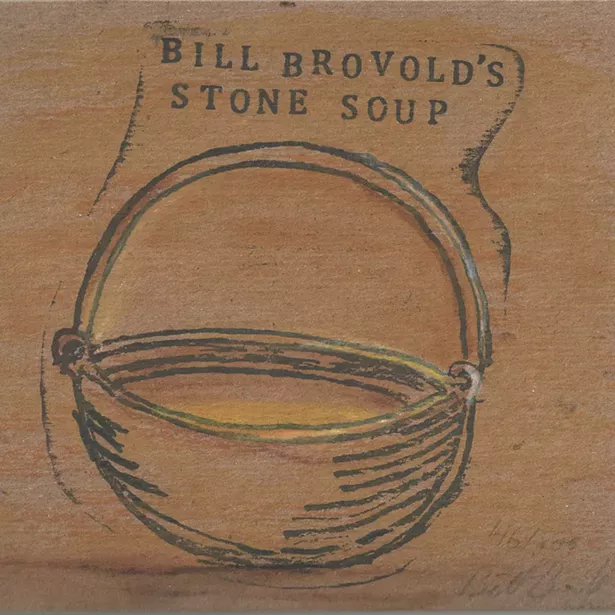 Bill Brovold Bill | Brovold's Stone Soup
(
Public Eyesore Records
)
On Stone Soup, Ulster Park avant-folk notable Bill Brovold plays an arpeggio on a rattling guitar—prepared in the John Cage fashion—over and over through 13 tracks. It's a neutral D-A-D across a low octave, and it is the song. The spartan pattern is played without academic exactitude: earthy, broken, with stray rattles and flams making it seem that a rural blues may be impending, or that a Nick Drake tune skipped right after measure one. Each track features a different partner who engages in textural ways with Brovold's monotune, a series of minimalist dialectics. Mark Ormerod leads it toward irressolute, luminous folk. Scott Burland imports an alien, legato melody that evokes both L. Shankar and sirens. Rhys Chatham fills the ample open space with vocalic drones and winged flutes. Leonardo ProtoPeople delivers the first real disjunction with his asynchronous beats and samples. Steady state and continual change: Brovold holds at center, but not so fiercely, just a guy with an old guitar.
BILL_BROVOLD_Rhys_Chatham.mp3
Update Required
To play the media you will need to either update your browser to a recent version or update your
Flash plugin
.