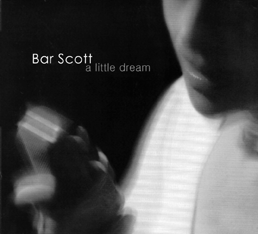 Bar Scott A Little Dream
Lucy Max Publishing, 2007
Crafting a "standard"—rich melody, tight rhymes, sophisticated wordplay—has become a lost art. Delivering such gems, however, is work that is right up the alley of award-winning Hudson Valley songwriter and chanteuse Bar Scott. After releasing six CDs of original material, Scott has realized a long-held yearning and produced A Little Dream, an album of 13 standards that span the 1930s to the 1960s.
The focus here falls not only on the compositions, but on Scott's remarkably nuanced voice, which frequently is held aloft solely by Peter Tomlinson's simpatico piano. With material that calls for a set of pipes able to convey a wide array of emotions—often over the course of a single tune—Scott excels and surprises; she can drip desire mixed with fear in the classic "You Better Go Now," burn with self-loathing crossed with grim satisfaction in "Good Morning Heartache," and brim with fulfillment laced with mournful resignation in "I Wish I Didn't Love You So."
Wrought during a less compulsively confessional age, these songs trust the listener to pick up on subtext. But to pull off the trick, the triumvirate of lyricist, composer, and interpreter must be intact. It is not hard to imagine any one of the creators of these masterpieces calling Scott on a rotary phone and giving her first crack at their tune. www.barscott.com.