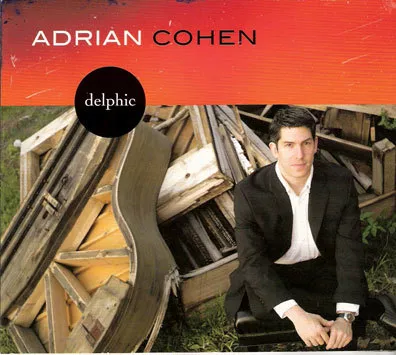 Adrian Cohen's artistic endeavors run the length of a keyboard: as a composer, as an educator, and as a resident of the Capital District. He's performed in local and regional events and has been recognized as Best Pianist for two consecutive years by Metroland magazine, among other accolades. The Adrian Cohen Trio's 2003 debut, Standardized (WEPA Records, 2003), took a fresh approach to the weathered pages of the jazz library. Delphic works with a more sophisticated palette of tone and color, adding three additional voices that draw your ear to Cohen's evolutionary process.
Cohen's seven compositions here have an unpretentious ring and crispness. "Tied Over Tune" opens with the unison melodic line played by tenor saxophonist Adam Niewood, trumpeter Shunzo Ohno, guitarist George Muscatello, and Cohen. Their solos are narrowly looped around the melody without sapping its energy. Cohen carries—as he does throughout the album—a more conservative performance demeanor compared to that of Standardized. Here he's in the passenger's seat, taking in a fuller view of the journey with his ensemble. His solos are tapered yet sharp, as in "Red Rug." His compositions also reflect a sense of economy and fluidity ("Last Days"). Each tune is buoyed by drummer Danny Whelchel and Standardized bassist Mike DelPrete, particularly on the lovely opener "Life," which was written by trumpeter Steve Lambert.
Delphic gives purview into Cohen's current exploration into the more spiritual and boundless aspects of composing and performing, and into his intent on keeping this music flowing up. www.adriancohen.com.