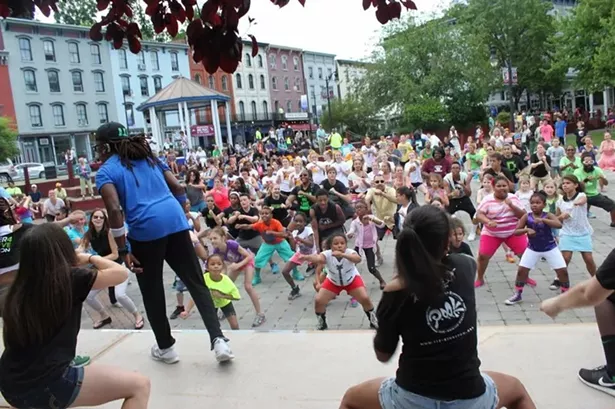 courtesy of the Center for Creative Education
The mission of the Center for Creative Education (CCE) is to enrich the social and cultural awareness of youth and community through arts, wellness, and education, and they do that through educational programming. So is it any surprise they're hosting one of the biggest, free health and wellness fairs in the Hudson Valley? The Third Annual Diversity Parade & 7th Annual
Let's Move! Ulster
Health Fair and Celebration happens Wednesday, June 21st on the Rondout in Kingston.
The CCE is actually multiple centers. In their a main site in midtown Kingston, there are weekly drumming, dance, and fitness classes, and a homeschool hub with classes in art, Shakespeare, technology, and mythology for 10-15-year-olds. The Kingston site is home to three award-winning youth dance ensembles, as well as the Percussion Orchestra of Kingston (P.O.O.K), which brightens every Stockade FC home game at Dietz Stadium. A second site in Beacon also offers classes in music and dance, as well as youth improv, a string orchestra, and a local artist series. Plus, the CCE provides a wide array of classes in dance, music, fitness, theater, spoken word, computer arts technology and the visual arts in school districts throughout the Hudson Valley. They recently launched a successful Project Based Learning pilot program in partnership with the Kingston City School District, to help raise graduation rates among minority students.
The 3rd Annual Diversity Day Parade starts at Kingston Catholic School at 5p, when people will dance their way down Broadway. At the bottom of the hill in Gallo Park, the
Let's Move! Ulster
Health Fair and Celebration will keep the party going until 8p. There will be a "flash mob" facilitated by CCE Executive Director Bryant "Drew" Andrews, fitness demonstrations such as DXF® – Dance Xross Fitness®, Yoga, Pound® and Zumba®, plus live performances from P.O.O.K, Energy Dance Company, and Uptown Swing. The fair is also a chance to learn and engage with community vendors in the health and wellness industry.
"Ulster County has been steadily climbing the Robert Wood Johnson health rankings going from 35 to 15," said Ulster County Executive, Mike Hein. "I want to encourage all of our residents to participate in the
Let's Move! Ulster
campaign and attend the Diversity parade where we celebrate Ulster County's greatest asset: our people."
"We are excited to be able to offer the chance for the ENTIRE community to come together in celebration of diversity, health, and movement and we hope many people from Ulster County and beyond join us," says Andrews.
The 3rd Annual Diversity Day Parade & 7th Annual Let's Move! Ulster Health Fair and Celebration, starting at 5p at Kingston Catholic School, 159 Broadway in Kingston, and ending at T.R. Gallo Park on the waterfront: Wednesday, June 21st, 2017; 5-8p; free! For more information, or to practice in advance for the flash mob with a video tutorial, visit the CCE website and/or the Let's Move! Ulster Facebook page.
Want to be a sponsor, vendor, or parade participant? Call CCE at (845) 338-7664 or email: [email protected]