Driving up to Mount Tremper from Kingston along the scenic byway of Route 28, you notice subtle changes the deeper you get into the Catskill Park: meandering creeks, stretches of farmland, majestic peaks, and the scent of the pines. These influences are captured in the cooking and hospitality at Woodnotes Grille, the restaurant of the Emerson Resort and Spa. (The Emerson is also home to the world's largest kaleidoscope, which is worth a visit if just for the kitsch factor alone. You wouldn't drive through Cawker City, Kansas without stopping to see the world's largest ball of twine, would you?)
Woodnotes' dining room is a blend of classic and contemporary, with a large fireplace as its centerpiece, an inviting bar, and comfortable seating with a view of the Esopus Creek. The lodge-like feel of the dining area and expansive windows draw in the natural splendor of the magical surroundings. And there's plenty of room on the deck overlooking the creek for meals and drinks in the warmer months. (Pro tip: Enjoy a cocktail in one of the Adirondack chairs along the creek to soothe your ragged psyche before your meal. Unless it's breakfast, of course.)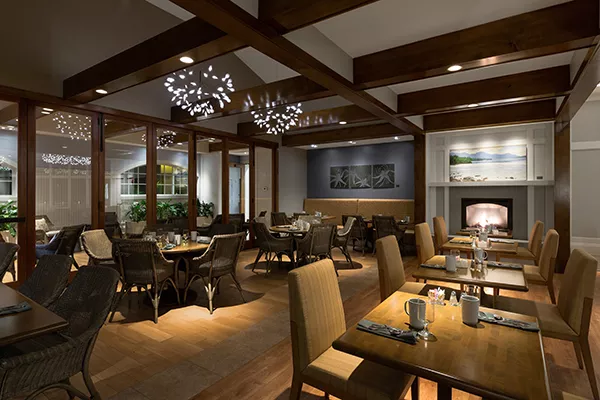 Breakfast is served from 7:30 to 11:30am every day, featuring a bevy of locally sourced ingredients. Want a classic? Try the Eggs Benedict with Country Ham ($11), served with Catskill favorite RSK Farm potatoes. Feeling serious hunger pangs in the morning? Chicken and Waffles ($14)—sweet potato waffle with organic buttermilk fried boneless chicken thighs and maple-bourbon butter—could be your ticket. If you're wanting something on the sweet side, Cinnamon Challah French Toast Sticks ($9)—served with Catskill Mountain Maple Syrup—is dessert for breakfast with a side of local bounty.
Lunch, served daily from 11:30am to 2pm, is a collection of gastropub classics like Caesar Salad ($10), Reuben Sandwich ($10), and a Fried Chicken Sandwich ($12). A contemporary treat is the Avocado Toast topped with cucumbers, radishes, and sunflower seeds.
Dinner, the star of chef Greg Gagne's show at Woodnotes Grill, is served nightly from 5 to 9pm (5 to 8pm on Sundays, with a two-course family meal for $22). A good beginning is a cocktail—Woodnotes' drinks programs puts innovative spins on the classics like a Rum Old Fashioned ($12) made with Ron Zacapa 23 rum, Demerara sugar, Angostura bitters and orange. Once you're settled in, try the Smoked Gouda Fondue ($14), a molted skillet of cheese served with grilled baguette slices and baby carrots. Other inspired starters include Blistered Green Beans ($12), Fried Calamari ($12) and Roasted Baby Beets ($10) Ricotta Salata. For entrees, it doesn't get more local than Beaverkill Trout ($30)—served with white bean stew—from the stream just a few miles up the road. For vegetarians, Spring Pea Risotto Croquettes ($18), served with grilled vegetables and carrot marinara, are a savory option.
Woodnotes Grille at the Emerson Resort & Spa
5340 Route 28, Mount Tremper
(845) 688-2828
Woodnotes Grill is open for breakfast, lunch, and dinner seven days a week. Reservations are recommended.