Courtesy of Catskill Farms
Seventeen years ago, Charles Petersheim saw a need, and set to work filling it.
The
Catskill Farms
founder moved from New York City to Narrowsburg in 2001 and noticed that the area lacked inspiring homes on the real estate market. "I saw a lot of young families buying distressed properties that needed far more rehabilitation than indicated by their life experience and their realtor," he explains. "This tended to turn the whole rationale for buying an upstate retreat on its head. Instead of relaxing and kicking back, they were hiring hard-to-find contractors and managing a complicated, far-away construction project." To Petersheim, that seemed all wrong. "An old home is always an old home, no matter how much lipstick you put on it."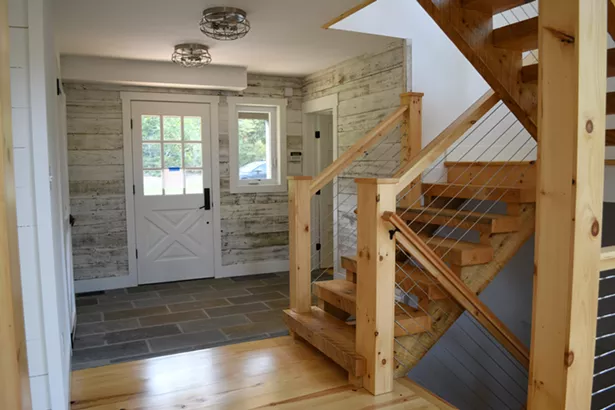 Courtesy of Catskill Farms
In 2002, Petersheim built his first barn home—it is still owned by the same family. Since then, Catskill Farms, Petersheim's vertically integrated development, design, construction, and real estate company, has built 165 homes across Sullivan, Ulster, and Dutchess Counties, ranging from 700-square-foot cottages to sprawling, four-bedroom farmhouses. These houses are constructed both for specific clients and for listing on the market, injecting the region with much-needed housing inventory into the region.
Expert Execution, Curated Location

Petersheim is picky about land, and it shows. Each plot is chosen based on price, location, construction readiness, broadband accessibility, neighborhood, the "feel" of the land and its flexibility for accommodating various house styles and sizes. "We are experts in land selection," he says, "and we love pairing a nice piece of land with a modest new home. It's what we do." Just recently, Catskill Farms completed work on Barn 24, in the Ulster County hamlet of Kerhonkson, which is now on the market for $699,000.
Courtesy of Catskill Farms
Built on one of those curated properties for which Catskill Farms is known, Barn 24 is a 2,700-square-foot home with four bedrooms and 2.5 baths on a 22-acre lot. Marrying a
Dwell
aesthetic with rustic country, Barn 24 merges genres without overplaying its hand in any one direction. "Nothing is worse, in my mind, than adhering so strictly to a borrowed design and aesthetic it becomes a caricature of itself and the form it was mimicking in the first place," Petersheim says. "Our barn plans keep it simple with open vertical spaces and a general attention to the simple exterior form of the American Barn." Barn 24 is an adaptation of a barn house Catskill Farms has been playing with for six years—this one is a little taller and a little longer.
The interior flows from one living space to another, with the dining room, living room and kitchen all sharing a common goal of communal living with adequate elbow-room. The clean modern interior transitions into and incorporates the surrounding land with large windows, oversized decks, and screened porches that offer views of the surrounding woods and mountain ranges. The house boasts high ceilings, salvaged and plank wood walls, and wide-plank floors. A full walk-out basement has been framed up for transformation into an additional living space, be it a media room, a separate bedroom suite, or just a large kids room with padded walls and floors.
Courtesy of Catskill Farms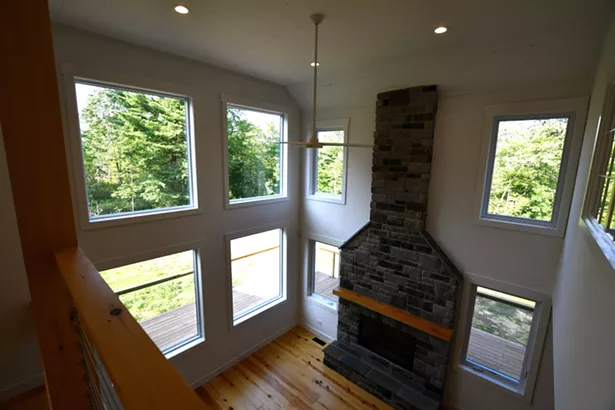 Courtesy of Catskill Farms
Catskill Farms draws inspiration from Catskills' history, the regional architectural vernacular and many updated visions of the new American home—be it farmhouse, modern, barn, rancho, or mini-home. "I try to marry those inspirations with what I know about the local marketplace demands, such as size, floor plan flow, bedrooms, and locations," Petersheim says. Energy efficiency is also one of Catskill Farms' top priorities. Using spray foam insulation, siting homes to maximize shade and sunlight, and keeping homes modest in size help achieve that goal. "My clients expect that in their homes," he says.
Perhaps Barn 24's greatest attribute, Petersheim explains, is that it exemplifies what Catskill Farms strives for in every home it builds. "The goal of the house is a single-minded focus on meeting the needs of the market, checking as many boxes as possible on a prospective homebuyer's list," he says. "We try to build a house that suits the customer. While no house has everything, at least for our clients, we try to address as many of their priorities as possible.
With close to 200 homes, nearly 20 years, and $200 million of investment in the Catskills under his belt, it would seem Petersheim's read on the market is spot-on. And since the rural migration pattern shows no signs of stopping, he'll be at this game for a while.
Check out Barn 24 >>
Courtesy of Catskill Farms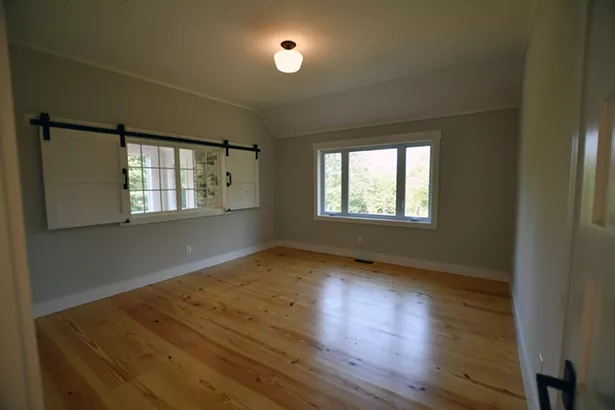 Courtesy of Catskill Farms