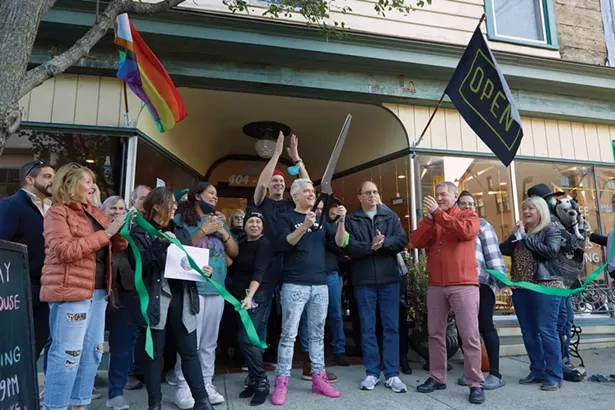 Photo by David McIntyre
Members of the Catskill Chamber of Commerce and community members gathered for the ribbon cutting of Citiot, the new coffee shop and coworking space opened by Pim Zeegers (holding scissors) this summer.
In late August, thousands of visitors descended on Catskill, a small community nestled between the Hudson River and the Catskill Mountains to see an art exhibit at Foreland, a new contemporary art campus. According to Foreland's owner, artist and developer Stef Halmos, the event included more than 100 artists and was part of the Upstate Art Weekend in collaboration with New York City-based New Art Dealers Alliance, and Hudson's JAG Projects, a curatorial production and art advisory.
"The Foreland event had a huge impact on Main Street businesses in Catskill and the entire village," Jeff Friedman, president and executive director of the Greene County Chamber of Commerce, says. "It was a very busy weekend for these businesses because of the event."
Main Street's sidewalks were crowded with fashionably dressed visitors popping in and out of stores, eating outside at New York Restaurant and the Mermaid Cafe, having drinks at Left Bank Ciders, and strolling through the village.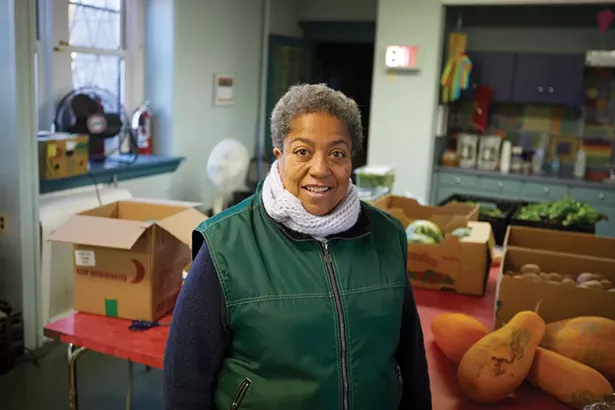 Photo by David McIntyre
Catskill Food Pantry founder Megan Henry inside St. Luke's Episcopal Church on William Street.
Foreland is housed in the 19th-century mill buildings at the foot of Catskill Creek that have seen a variety of now-defunct projects, including an attempt to transform the space into condos, and Etsy founder Rob Kalin's vision of a community of artisans. Now, after extensive renovations, the three-building complex houses exhibition space, 31 studios (all but one is currently occupied), and a commercial tenant, Willa's bakery and cafe. Halmos says the tenants "represent a healthy mix of local, regional, and New York City artists."
Being a community partner is very important to Halmos and the Foreland team, so they spend a lot of time listening to the interests of residents and other neighboring businesses to ensure that Foreland's "outsized footprint" in the area is "a force for good," she says.
"We're going to great lengths to engage the diverse audiences that reside in Catskill and the larger Hudson Valley area," she says, "and to ensure that our outsized footprint in the area is a force for good."
Photo by David McIntyre
Annabelle Lord-Patey cleans a record at Spike's Record Rack on Main Street.
New Blood, New Business
Late in the second year of the pandemic, Catskill, and Greene County as a whole, has continued to see an influx of new businesses and residents. There has been a 17-percent growth in the number of businesses in the county since the start of the pandemic, along with strong retail sales, according to Friedman. "Many businesses have had their best year ever this year," he says.
This past summer, Pim Zeegers, originally from the Netherlands, opened Citiot, a coffee shop/retail/coworking space located at 404 Main Street. It's easily recognized stylized cat-eye logo was designed by a student from a Dutch graphic design school as a class project. "I tried to start something where people come in for different reasons," Zeegers says. "You can get a cup of coffee, but there's also retail and a little art gallery. You can hang out or you can work."
Photo by David McIntyre
Left Bank Cider owners David Snyder, Tim Graham, and Anna Rosencranz with their son.
Zeegers and Gertjan Meijer, also Dutch, bought a second home in Athens in 2016 and became full-time residents when the pandemic struck. "Catskill has a mix of different kinds of communities, and we want to be for everybody," Zeegers says of his business. "Catskill has a cool mix of people."
The shifting landscape caused by the pandemic has meant businesses have had to adapt. "Most every business has now settled into a business model that allows them to function successfully within the constraints of today's pandemic-affected society," Friedman says.
Body be Well Pilates, at 401 Main Street, has been in business for almost a decade but nearly went under during the first year of the pandemic because of a six-month, state-mandated closure followed by a 33-percent capacity limit. The owner, Chelsea Streifeneder, retained all eight of her employees (she has a second location in Red Hook) and juggled two mortgages. "It was a mess and, honestly, we are super lucky that we are still open," she says. "We have a lot of amazing clients who supported us through that time."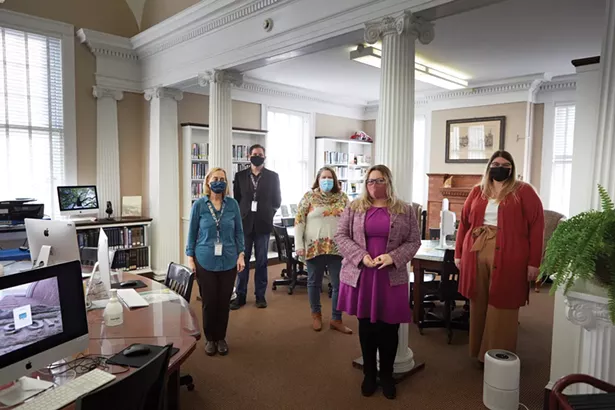 Photo by David McIntyre
The staff of the Catskill Public Library (l-r): Lene Cameron, Gabriel Kane, Cressa Moran, Crystal DiRaffaele, Allie Rappleyea.
Streifeneder says the influx of new residents has had a positive impact on her business, but that it's "super humbling to say that the majority of our clients have been with us for over a decade."
Two Worlds, One Village
There is another side to the changes wrought by the pandemic that may be less visible but deeply affects the community, a side that includes a housing shortage, food insecurity, and social justice issues.
Megan Henry launched the Catskill Food Pantry in February 2020, just before the pandemic took hold in the US. She initially thought in 2021 that the community's needs were going to shrink. But they've grown.
Photo by David McIntyre
Mike Lanuto has operated Captain Kidd's Inn, a funky, pirate-themed bar in the basement of a 225-year-old historic house, since 1993. Captain William Kidd supposedly sailed up the Hudson and buried his vast stolen treasure in the area.
"Our numbers have more than doubled," she says. "We're getting more working-class people and getting a lot of elderly and single people."
In Catskill, Henry runs a weekly pantry out of St. Luke's Episcopal Church (50 William Street) that is set up like a grocery store so people can pick out what they want. She focuses on fresh foods as opposed to non-perishable items. Much of the produce is donated by local farms including Nimble Roots and SpringRise, both located in Catskill. The pantry serves between 30 and 35 people a week, up from seven when they first launched, Henry says. She also makes home deliveries and has a second location in Prattsville.
Besides Henry's organization, there are four other food pantries in Catskill—Matthew 25 Food Pantry, Greene County Community Action, God's Storehouse Food Pantry, and Catskill Community Fridge. Wesley Harper, who helped launch the Catskill Community Micro Farm last year, believes the village could use a more coordinated effort to fight food insecurity.
Photo by David McIntyre
Magpie Bookshop owner Kristi Gibson in front of her second-hand bookstore on Main Street.
In 2020, the microfarm completed 20 harvests and donated 1,100 pounds of food to the Catskill Food Pantry, according to Harper. When he attempted to reorganize the farm to continue donating the same amount of fresh vegetables by merging it with SpringRise, a garden and nursery located nearby, the project faltered. "A small but vocal minority in the neighborhood didn't want a business operating in a historic district," Harper says. He's now operations manager at SpringRise, which is owned and directed by Philip Kayden. They grow diversified annual vegetables and perennial native plants using regenerative growing practices on the two-acre property. They also have a storefront, Observatory Main St. at 395 Main Street, where they sell produce and other locally made items. The store is open on weekends through the end of the year, with plans to expand their hours in the spring of 2022. They are also working on accepting EBT cards next year.
According to Henry, the rising cost of food has also played a part in food insecurity in the area. "There's also a horrible housing crisis, which is causing more issues," she says.
Greene County's stock of single-family homes for sale dropped by 44.7 percent from the first quarter of 2020 to the first quarter of 2021, according to Hudson Valley Pattern for Progress, a non-profit policy and research organization. Months of inventory, a critical indicator of the housing market, dropped from nine months to 3.7 months during that same time period, one of the steepest declines in the Hudson Valley. The second quarter of 2021 compared to the previous year wasn't much better, with homes for sale down by 34.7 percent, and inventory dropping from 8.7 to 3.9. "Over the past 14 months, the region has witnessed skyrocketing home prices, a decimated inventory, the continuation of historically low-interest rates, and an apparent demographic shift from the NYC Metro area," Joe Czajka, the organization's senior vice president for research, development, and community planning, wrote in the Regional Housing Market report put out by the nonprofit in May.
Photo by David McIntyre
Danny Michalopoulos, assistant director of Cus D'Amato's KO Boxing Gym on Main Street. In the 1980s, Mike Tyson was trained by Cus D'Amato in Catskill before the start of his professional career.
The Hudson/Catskill Housing Coalition, founded in June 2020, was created in response to this issue. The Black-led organization was founded to serve residents of public and low-income housing in the two communities by empowering them to fight for housing justice.
"Some of the goals are creating spaces where those closest to the problems can offer the solution, providing pathways to leadership and service for those who are often on the margins," says HCHC Senior Policy Advisor Quintin Cross.
Rapid gentrification after the pandemic coupled with a lack of public and low-income housing due to long-term disinvestment is driving the housing crisis, according to Cross.
Photo by David McIntyre
Todd Lunderborg of Anvil Craft Services canning beer at Crossroads Brewing Company Catskill location.
The Board of Trustees for the Village of Catskill is eyeing another piece in the housing issue: short-term rentals.
"Since the pandemic hit and new people are moving upstate, there is little to no stock in housing here in the village, especially that classified as workforce housing," Trustee Natasha Law says.
Law believes without these short-term rentals, housing stock would be on the market for either purchase or as rentals. "While I recognize the need to house those visiting our area and the lack of hotels in Catskill, I also recognize the need to house those that live here full time," Law says.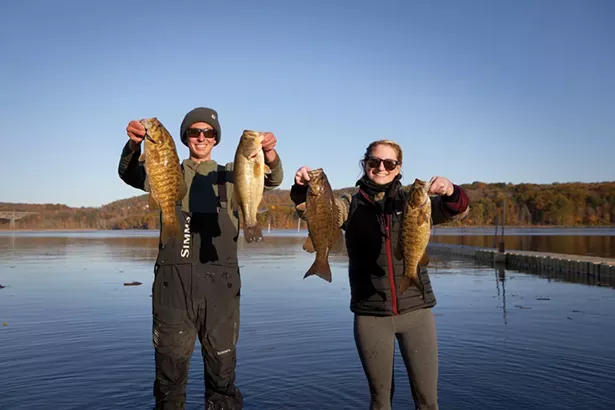 Photo by David McIntyre
Competitors Christy Tiano and Allison Maben at the Meals on Reels Catch & Release Bass Fishing competition on the Catskill Creek at Dutchman's Landing Park.
The board recently rounded out the regulations for short-term rentals (STRs) passed last November. Among the requirements, an initial $375 fee for the permit and a yearly $125 inspection fee. Owners must provide a copy of the permit to every adjacent property owner within 150 feet, and must have smoke detectors in each bedroom, a fire extinguisher, and a carbon monoxide detector, among other stipulations.
Owners have until the end of the year to go to the Village of Catskill code enforcement office to apply for the permits. Come January, homeowners operating STRs will be notified via certified mail concerning compliance. Those found operating without a valid permit will be issued an appearance ticket to Catskill Town Court, where they will be charged double the amount of the permit fee per unit, Law says. The village is also looking at other regulations such as a four percent tax related to STRs.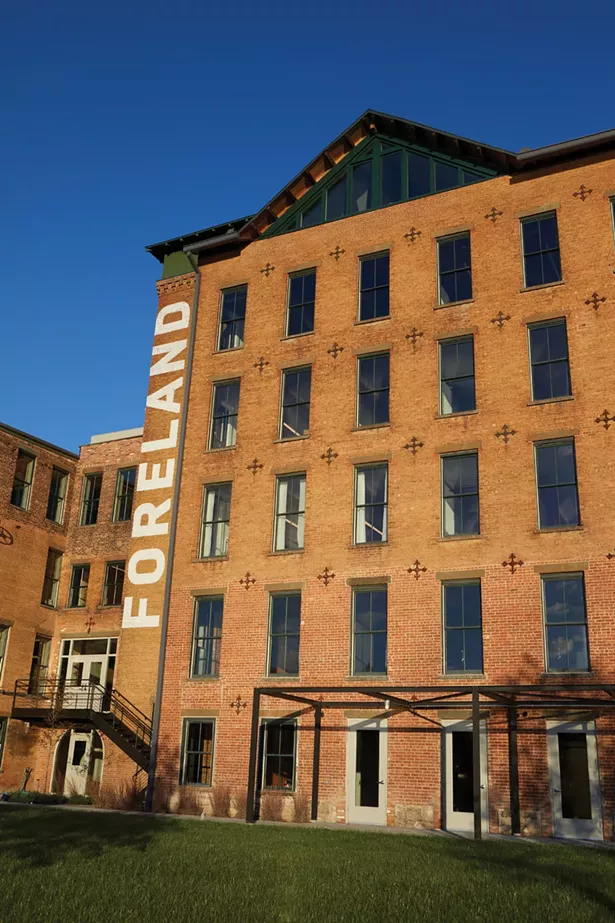 Photo by David McIntyre
Foreland is an arts campus that opened this year with 85,000 square feet of galleries, studios, and workspaces, in a series of historic buildings along the Catskill Creek.
Cross says the HCHC wasn't consulted on the regulations but he had "no faith in this village board to do right by those who stand at the margins." He points to the village trustees rejecting the planned Black Lives Matter mural on Main Street last summer as an example.
He would also like to see "real police reform" in the village. Cross believes there needs to be "a focus on mental health and mobile crisis." He mentioned the recent case of Catskill resident Jason Jones who burst into flames after Catskill Village Police officers deployed a Taser on him during an incident on October 30 inside the police station. Jones, 29, was allegedly intoxicated and had doused himself with hand sanitizer before confronting officers, according to an Associated Press article. Jones remains in serious condition, WRGB reported. The incident is under investigation by the Greene County District Attorney, according to numerous media outlets.
Photo by David McIntyre
Sam Jones, one of the co-owners of Goodie's Bagels & Bites on Route 9W in Catskill.
For Henry, she hopes that, as a community, Catskill can come together to reduce food insecurity and the stigma surrounding it.
"Only we as a community can take away that shame by how we treat one another," she says. "I don't know what the exact answer is, but I know that we just have to figure it out together. And the easiest thing we can do is just sit and listen to each other."