Photo: Deborah DeGraffenreid
The living room of Hammer and Lafferty's home includes a working fireplace, views to the abundant perennial garden, and an assortmentof furniture and art. "Melina has a penchantfor one-of-a-kind, eclectic pieces largely incorporating weathered and worn elements: well used old cutting boards, retooled chairs, antique transferware and ironstone china, and vintage rugs from places around the world," says Lafferty.
It was Melina Hammer's father who planted the seed. A few years ago, Hammer invited her parents to dinner at the Brooklyn apartment she shared with her husband, Jim Lafferty, something that happened on a semi-regular basis. "Whenever anyone visited, our days were plotted around the awesome meal that Melina was planning to make," says Lafferty. As usual, Hammer sought out the freshest seasonal ingredients, chose a seasonal bouquet of flowers for the table, and hand-picked linens and tableware of varying textures and vivid colors to complement the meal. Afterward, her father made an observation. "So many of your meals are three dimensional," he said. "There's gorgeous flowers, there's all these interesting objects, the food is incredible: It would seem there could be a way to bring people into the experiences you create." It was an offhanded comment, "but it stuck," explains Lafferty.
Photo: Deborah DeGraffenreid
The side table in Melina Hammer and Jim Lafferty's kitchen is full of ingredients. The food and flowers are all from their garden, foraged from nearby woods or gathered from local farms. The couple host Airbnb guests almost every weekend in their home and Hammer specializes in cooking custom multi-course menus. "We loveshowcasing the incredible flavors or wild foods paired with thoughtfully grown and harvested cultivated foods of the season," says Lafferty.
That idea germinated in both Lafferty and Hammer's minds over the next few years, growing as both their careers evolved and life took them to Birmingham, Alabama, and then back to New York City. It eventually propelled them to the Hudson Valley, where the elder Hammer's observation has proved prescient. Those meticulously planned, seasonally inspired feasts have flowered into Hammer and Lafferty's year-and-half-old, farm-to-table, meal-centric Airbnb, where they specialize in not just seasonally inspired menus but in creating the community and the connection those meals can foster. Dubbed the "Catbird Cottage," after the local bird that often mews like a cat with its call, their 1946 Cape Cod is set on a lush two acres bursting with abundant ingredients both cultivated and wild. Since purchasing the 1,800-square-foot house in 2018, Lafferty and Hammer have restored the three bedrooms, two baths, and dining and sitting rooms with the same painstaking attention to detail that Hammer applies to meal preparation.
Photo: Deborah DeGraffenreid
Hammer made the sourdough bread (as well as her ring) from scratch. The chance to create handmade meals, and encourage more thoughtful consumption, was part of what brought them to the Hudson Valley. "We wanted a better day-to-day quality of life, an opportunity to grow our own food and be better stewards of the Earth," says Lafferty. With guest meals, the couple try "to lace in an awareness of humane consumption, having grown more conscientious of the finite resources on this planet."
Roots of the Garden
Hammer's road to gastronomical artistry was a long and winding one. Originally from Detroit, she studied metalsmithing at the University of the Arts in Philadelphia, where she was drawn to the slow-hammering process of the ancient art and the variety of textures she could create with metal. She also studied ceramics, weaving, and glassblowing, received a grant to pursue fine art photography. To help support herself, Hammer began working in restaurants. That's where she met Lafferty (now a photographer), when the two were working in competing Nuevo Latino restaurants. Hammer was making an independent film and needed help with the editing, so she made Lafferty a proposal—in exchange for his help editing the film, she would cook him a meal. "He was my first guinea pig," she says. From there, both her relationship with Lafferty and her interest in the culinary arts grew. "I really didn't know anything about food. I knew fine art, textures, relationship to colors, the scale of things, and composition, stuff like that," says Hammer. "But I was curious. I love the ingredients and I love that there could be so many wonderful flavors. And I like to eat."
Photo: Deborah DeGraffenreid
When they bought the 1946 Cape Cod in 2018, it included vestiges of a large perennial garden planted in the 1970s. The couple have been working to bring it back to life, as well as plantingan heirloom vegetable garden to supply their guests' meals.
She and Lafferty moved to New York City. In attempts to channel her creative work into something that was commercially viable, she began working in the commercial photography field. Eventually she was able to converge her interest in the culinary arts with her creative talents when she began making and photographing recipes for the New York Times. It was a detour to Birmingham that inspired both Hammer and Lafferty to delve deeper into culinary science. Although they'd originally moved for a job, it was the lifestyle they discovered there that really stuck. "It was a combination of a healthy admiration for a little more space and connection to people that we really both took away from the experience," says Lafferty. "We both became close with young, independent family farmers and every weekend we would go to the farmers market and pick up impeccable amazing produce just pulled from the ground." The two also appreciated the easy access to nature Birmingham offered. "Ten to fifteen minutes from our apartment was dense, lush nature," Hammer explains. "My interest in foraging and my ability to readily, easily forage at a moment's notice grew exponentially." Because of Lafferty's career, they needed to move back to the New York City area. "But we took with us the idea that we wanted more space and we wanted to connect with local farmers and local food," Lafferty explains.
Seeds Planted (Eventually) Grow
Photo: Deborah DeGraffenreid
The home's living room looks out to the natural bounty of the Hudson Valley. "With each season, we've loved learning about the particulars of nature in a new ways," says Lafferty.
They set their sights on the Hudson Valley. The area's natural resources, the abundance of local farms and the proximity to New York City made it seem like the next step in both their creative and professional development. "I wanted to do something I really believed in, and to have the ability to pull on my personal talents and strengths," explains Hammer. "When we were looking at homes, we planned on incorporating a bed and breakfast aspect. We wanted to build community and I wanted to share the voice I had found in Birmingham. There's an Instagram following that drools over pictures—and that's wonderful—but if food really is the magic, then why not find a way to share that food with people?"
They began searching the area for the right home and almost bought a property in Tillson, before their real estate agent pointed them to their house in Accord. "It was the last house we saw that day and our agent said the photos of the place didn't do it justice," says Lafferty. "Most people passed on seeing it but she thought we would commit." Their agent was right—when they walked in they were smitten. A sunny front living room had hardwood floors and a brick fireplace with a row of oversized windows framing old-growth trees in the front yard. A large dining area off the kitchen had another wall of windows framing a perennial garden, which was a bit neglected by previous owners but ready to be coaxed back into life. The dining area featured brick floors and exposed beams—it would be the perfect place for a community table.
Photo: Deborah DeGraffenreid
The couple outfitted the home's upstairs' master suite as space for guests and dubbed it the Catbird Cottage. The room is decorated with pieces inherited from Hammer's grandmother, including a Swedish tablecloth. "We're not really white linen tablecloth kind of people," explainsHammer. They hung it on the wall.
In June 2018, they moved in and hit the ground running. "I had these grand visions of establishing raised beds before we moved in, which was totally unrealistic," Hammer explains. So, they began with container gardens, resuscitating the large perennial gardens planted by a previous owner, and then established raised beds throughout the property by the end of the summer. They also began foraging for mushrooms, greens, and berries on their own two acres and in nearby woods. Inside, they knew they had to match Hammer's great meals with well-appointed rooms and thoughtful touches.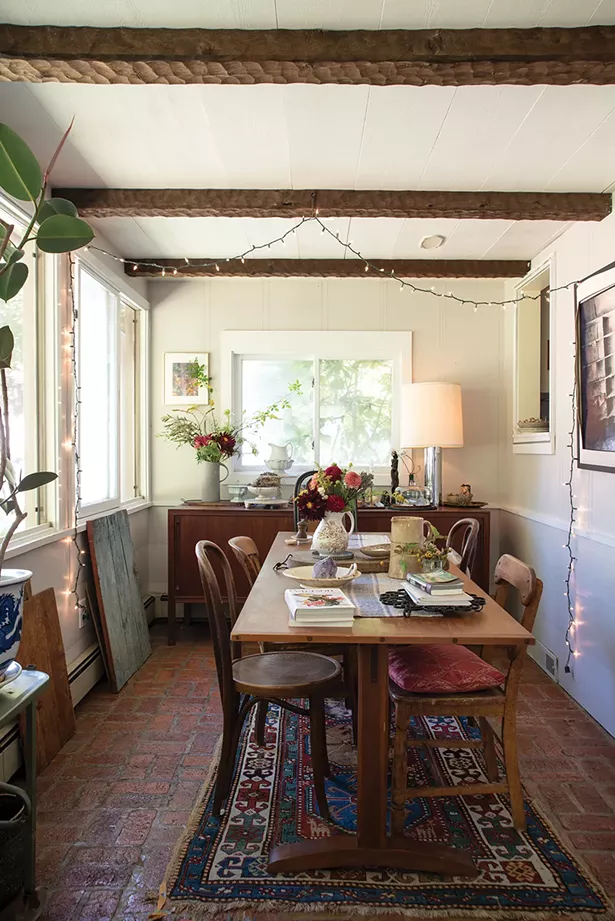 Photo: Deborah DeGraffenreid
The home's dining room can accommodate up to 14 people. Over the past year, the couple have hosted three eating events—a late summer harvest dinner, "Eat the World" and an oyster bar and welcome 2019 brunch—as well as five-course cooking workshops. "We would like to collaborate with local venues to produce future eating events, to bring in more community from this beautiful region," says Lafferty.
Upstairs, the home's master suite was renovated to become a guest space utilized primarily for Airbnb. Hammer whitewashed the ceiling and hung an heirloom tablecloth along the wall. A skylight over the bed was installed by previous owners and the couple kept the wall-to-wall white carpet, which adds to the room's airy feel. She also added antique chairs and tables collected from her grandmother, who was a secretary at Knowles Furniture in the 1960s. The upstairs suite also includes a private bathroom. Hammer and Lafferty converted the two downstairs bedrooms into private space—one a home office and the other a bedroom for themselves.
Photo: Deborah DeGraffenreid
The remaining downstairs areas are shared with their guests. Hammer has decorated the walls of the sitting room almost exclusively with paintings created by her grandmother, and a curio cabinet brought from Pennsylvania is filled with one-of-a-kind ceramic pieces created by friends and utilized as serving dishes for her meals. The dining area is decorated with an heirloom rug and has a pass-through to the kitchen—allowing for an easy back and forth between Hammer and her guests as she prepares their meals. While Lafferty and Hammer love their new home and the lifestyle it has enabled, it's this opportunity to bond with strangers over their shared passion for food—and where it comes from—that the couple really prize. It took their actually hosting guests before both Hammer and Lafferty could realize what they'd created. "We were so focused on creating a great space that it took a special pair of guests who said to us, 'Listen, everything about our experience was fantastic. But what you created for us was an opportunity to connect,'" explains Lafferty. "Now, if I could only figure out a recipe for poison ivy," he adds. "Yeah," agrees Hammer, "then we'd live like kings!"
Photo: Deborah DeGraffenreid
Hammer and Lafferty have been industriously building their extensive outdoor garden. Along with the original perennial garden, they've planted a pollinator garden to attract hummingbirds and monarch butterflies, and incorporated native plants from Catskill Native Nursery and Adams Fairacre Farms into the landscaping in multiple terra cotta pots and barrels. They also constructed a cedar trunk deer fence with an arched planted trellis at the entrance.