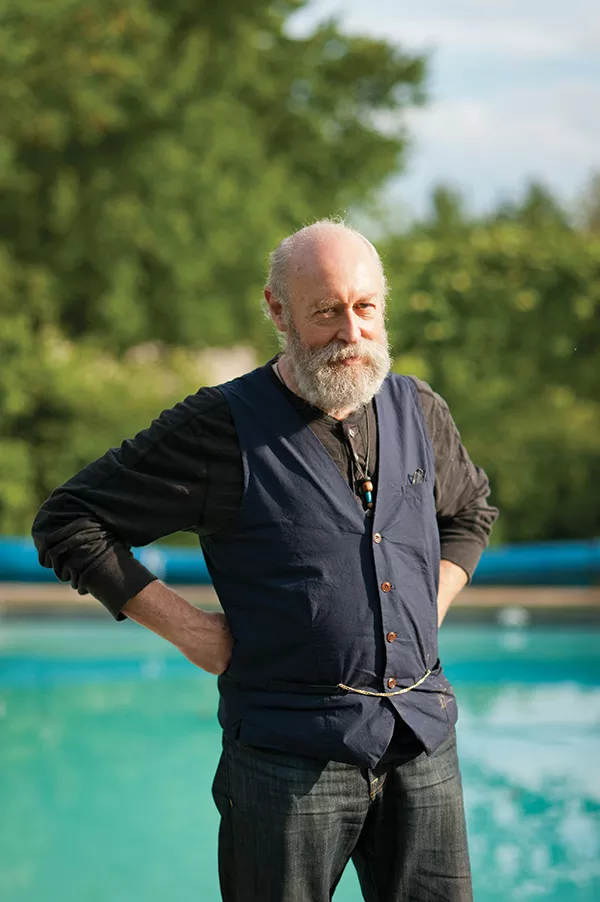 Roy Gumpel
Carey Harrison
Forget the cicadas. This is the summer of Carey Harrison.
June sightings include a launch party for his new novel Justice at Woodstock's Golden Notebook; a fiction reading with Sparrow and Violet Snow at Inquiring Mind; a staged reading of his play "Hitler's Therapist" at the Kleinert/James; premieres of two more plays, "Rex & Rex" and "I Won't Bite You," by the Woodstock Players at the Byrdcliffe Theater through July 7. Next month, he'll perform at the Phoenicia Festival of the Voice. Oh, and he started writing a novel this morning.
Despite this fearsome schedule, Harrison is eager to meet for "a long lazy lunch" at the Little Bear. He cuts a dashing figure in a crisp lavender shirt and gray vest, with a small hoop glinting from one earlobe and a motorcycle helmet resting on the table beside him. (He rides a Harley Road King, about which he says, "I do my shopping on it. It's supposed to be roaring down the highway, but I go to the Hurley Ridge Market and fill the panniers with bacon and eggs.")
Perhaps less bacon these days—the formerly ursine Harrison recently shed 80 pounds. Somehow he still appears larger than life, with a dense silver beard and arched eyebrows tailor-made for expressing delight. His crinkly eyes recall his famous father, Academy Award-winner Rex Harrison, whose elder self he is playing in "Rex & Rex." But where Sir Rex was notoriously astringent toward colleagues, his son overflows with effusive praise. Mick O'Brien's young Rex is "extraordinary"; Holly Graff's performance as an incarcerated murderess in "I Won't Bite You" is "a searing experience."
Harrison's diction is eloquent; even aloud, he's well written. And then there's his voice. A velvety, British-accented purr, it's unmistakably an actor's instrument, and he mesmerizes with tales of running contraband for antiapartheid activists in South Africa with the London Recruits ("we were terrorists for Nelson Mandela") and being held at gunpoint by Moroccan bandits. He flies off on some dizzying tangents, sometimes laughing so hard that he lays his whole head on the table. But whatever aerobatic loops his discourse may take, the ground he returns to again and again is writing.
He's almost obscenely prolific, having written more than 40 plays, 16 novels, and 100 radio scripts and teleplays for the BBC. "Like the Old Professor in 'Uncle Vanya,' I'm a writing machine, a perpetuum mobile that can't stop," he says cheerfully. "As you get older, it's easier and easier to write, but that doesn't mean you write better. When you look back at the stuff you wrote before facility took over, you think both 'God, that's terrible; I'd never do that now' and 'How wonderful, how brave.' So you get both better and worse."
He rarely rewrites once a draft is complete. "It's molten for a day or two. After two or three days, for better or worse, there it is."
Harrison and his wife, Irish-born artist and designer Claire Lambe, founded the Woodstock Players in 2010 to stage his play "Magus," followed by Robert Kelly's "Oedipus after Colonus," Harrison's "Midget in a Catsuit Reciting Spinoza" and "Hedgerow Specimen," David Mamet's "American Buffalo," Samuel Beckett's "Endgame," and the current duo at the Byrdcliffe Theater.
Written expressly for Graff, "I Won't Bite You" is an intense psychological drama set in an offshore prison; Chronogram Poetry Editor Phillip X Levine plays the interrogator. For "Rex & Rex," Harrison wears multiple hats—playwright, actor, and son—though he's quick to say, "'Son' doesn't pay any bills as far as this play is concerned. It's either a good play or it isn't."
"It may be interesting for people to see a son playing his father—and writing his father—but the private and personal don't really form the motor of the play," he explains. "There are certain details of my life with my father, but they're only details; the main arc of the play is invented. I don't see it as a therapeutic exercise. You're hoping to make people laugh, hoping to make it a good play. In that process you have no sense of biography."
Nevertheless, he describes a moment onstage in which older Rex stands behind his younger self to give him a neck massage, something Harrison started to do as a boy and continued into adulthood. "I had invented a way to find some physical closeness with my father. He never asked me to stop, never brushed me away with a 'That's enough, now.' I'm very touched by that."