What is more refreshing now that summer has arrived than a delicious frozen popsicle? This recipe provides an elevated mid-afternoon cool down for over-heated adults, and it's so easy to do.
The popsicles in this recipe contain 10mg of THC—which is twice the New England standard for an individual edible on the legal market. This is an ideal dose for most adults, but as with all edibles, the effect is slow to appear (wait up to 1 hour for the feels) and can last for several hours. Proceed with caution and do not eat more than one! If you are buying your weed in a dispensary, you will find that most strains contain about 20% THC. Choose something you like to smoke, perhaps with a nice fruity terpene profile that will taste great in your popsicle.
For cannabis with around that 20% mark of potency, you will only need half a gram for this recipe so you will have to find another use for the rest of your purchase! The flavor of the cannabis can be quite strong for some people's palates, which is why I like to use fruits like mango or pineapple that pack a tropical punch and even a bit of jalapeño and lime to spice it up.
The sky is the limit in terms of flavor combos here, but the important thing to remember is that the active compounds in cannabis are only soluble in fats or in alcohol. Since we are creating a non-boozy popsicle here, we are using coconut milk as the carrier fat for the THC. If you are not vegan and want to experiment, you can use heavy cream or milk and different fruits like berries, but the coconut flavor is key in this recipe.
For a non-psychoactive cannabis experience, you can skip the flower-infusing step and add a squirt of your favorite CBD extract to each popsicle at whatever dosage you enjoy—this will make for a relaxing refresher as well.
You will need
·BPA-free popsicle mold, hard plastic or silicone. Most of these molds come in a set of 10 and they hold 3 ounces of liquid. Available in most kitchen goods shops.
·Small saucepan and a small metal bowl for a double boiler
·Fine mesh metal strainer
·Blender
·Rubber spatula
Preparation Time
30 minutes
Depending on your freezer, 5 hours to overnight to freeze
Servings
10 popsicles with 10mg THC each
Ingredients
3½ cups of fresh or frozen mango (or pineapple)
1 cup coconut milk (the rich creamy stuff from a can)
4 tbs of agave/honey or sweetener of your choice
1 lime (yielding 2 tablespoons fresh lime juice plus the grated zest of that lime)
1 pinch of salt
1 inch chunk of fresh jalapeño without seeds (optional but delicious!)
½ gram of approximately 20% THC cannabis flower (ground or chopped finely)
NOTE: if you feel 10mg is too strong and would prefer 5 mg THC popsicles, use ¼ gram of cannabis.
Place all the ingredients—except the cannabis and the coconut milk—in the container of your blender.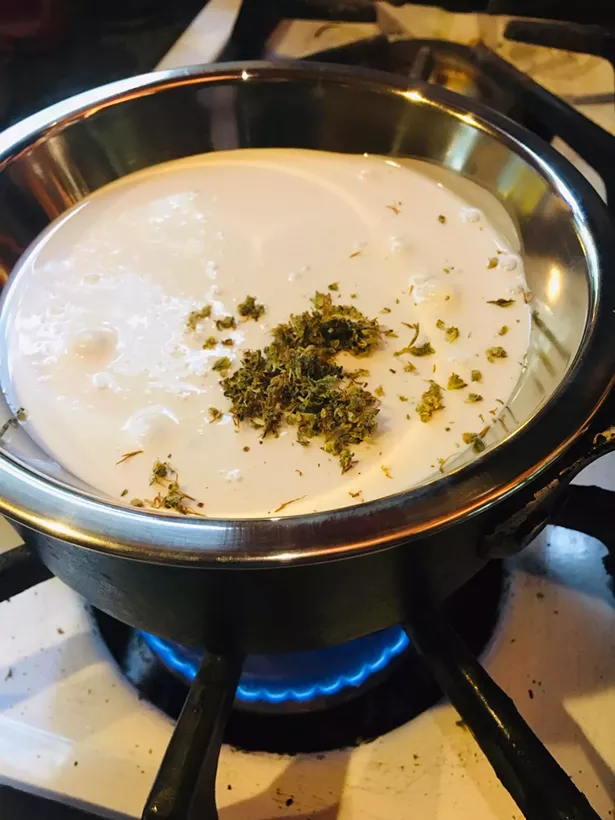 Place the coconut milk in a small metal bowl set over a small sauce pan on simmering water, this is known as a double boiler or bain marie. Add the ground cannabis and let sit over the heat for 30 minutes to infuse—the water does not need to boil violently, the idea is gentle heat to decarboxylate your cannabis, which is a fancy way of saying activate. You can stir the mixture now and then, make sure it isn't burning around the edges. It should smell fragrant. Some people have had success doing this process in a microwave but I find it unpredictable, if you choose to try it, place the cannabis and coconut milk in a ceramic bowl and microwave on low for 2-3 minutes, stir, check for burning, and zap again for a minute or two.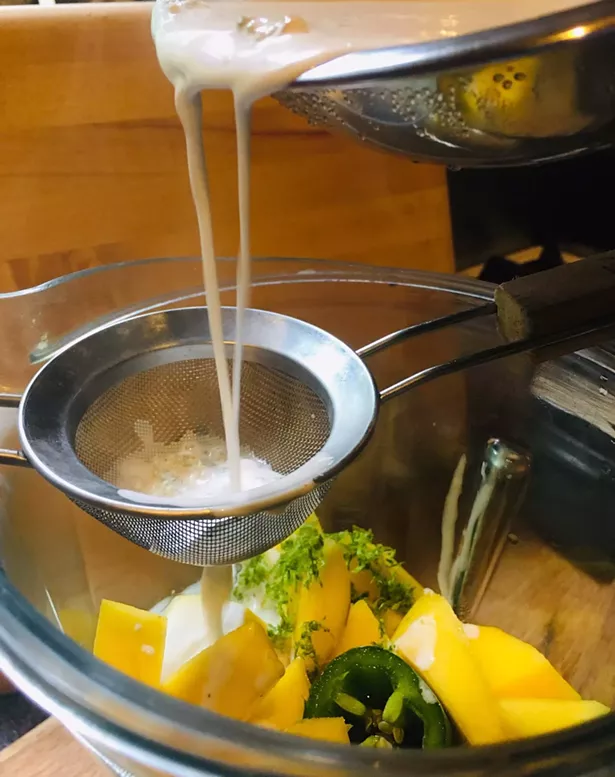 Place the fine mesh strainer over the blender container and pour the coconut milk through, pressing firmly on the plant material to squeeze out every drop of infused goodness. Discard the cannabis.
Blend the mixture on liquify or highest setting until smooth and pour into your molds. Scrape the blender well with a rubber spatula to get every drop.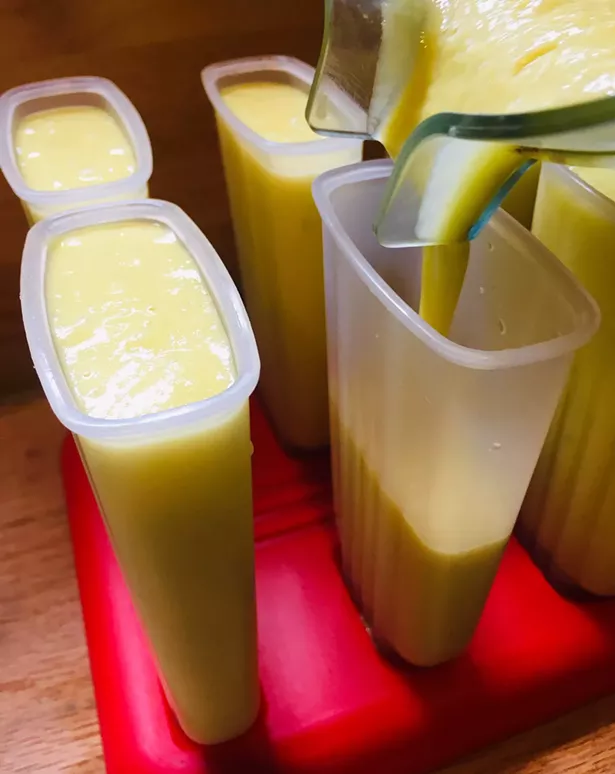 Freeze and enjoy safely! Try serving these in a frosty glass of coconut water or combo of seltzer and limeade. One of the trendiest new things in the world of mixology is a cocktail garnished with an ice pop, so try this lightly infused version with your favorite seltzer or Prosecco (but always be careful when mixing cannabis and alcohol, everyone's tolerance is different!), or in a CBD-infused drink for a nice balance of cannabinoids.
PLEASE NOTE: Always be sure to carefully label any cannabis-infused products clearly in your home so they cannot be mistaken by children as something safe for them to consume. Also, when serving them be sure to make it clear to everyone that these are for ADULTS ONLY.