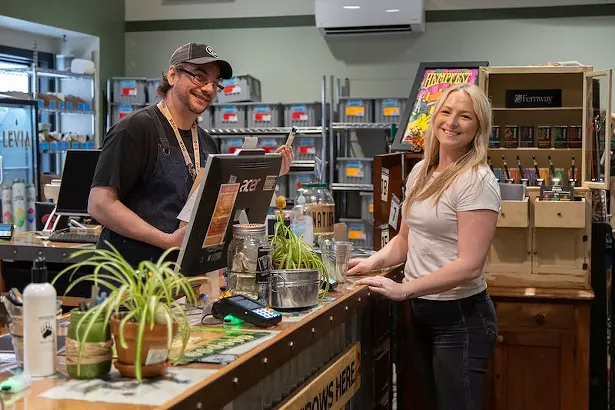 Images courtesy of Canna Provisions
The hazy, lazy days of late summer are finally upon us. For many people, that means soaking in as much time as possible in the great outdoors before the arrival of the cooler months ahead. From farm visits to hiking and camping trips, the rolling hills of the Berkshires offer plenty of opportunities for rejuvenation and wellness just a short jaunt away from the Hudson Valley.
Images courtesy of Canna Provisions
Smash Hits
And for those who are into wellness, no visit to the region would be complete without a stop to one of the Berkshire's recreational cannabis dispensaries. Whether you're a cannabis consumer, connoisseur, or just someone curious to explore how cannabis can be woven into your plans for wellness and play in the region, the adult-use cannabis retailer Canna Provisions certainly lives up to its name.
Images courtesy of Canna Provisions
Meg Sanders
Located in Lee just off the first exit on I-90 coming into Massachusetts from New York and about nine minutes off the NY Thruway, Canna Provisions is the perfect spot to stock up on cannabis goodies on your way to or from the Berkshires.
Part-owned by industry legend Meg Sanders, the dispensary is as much a cannabis experience as an outlet to grab a nug. Thanks to its education and consultative-based approach to cannabis retailing, it was voted #1 Cannabis Dispensary in Massachusetts by Chronogram readers.

Images courtesy of Canna Provisions
Canna Provisions grow team Johnny Greenfingaz (L) and Chemdog (R)
Canna Provisions is also the place to exclusively find new strains from OG grower and Canna Provisions' Director of Cultivation Greg "Chemdog" Krzanowski—credited as the inventor of Chemdog. Alongside the premium buds, the store stocks pre-rolls, vape cartridges, concentrates, edibles, tinctures, and topicals. And just in case you show up without the means to enjoy your purchase, an array of accessories available for purchase means you can relax, reset, and enjoy your trip to the fullest.