All images courtesy Fruition Chocolate Works
When it comes to Valentine's Day, chocolate is a guilty pleasure that everyone can get behind. "People love heart-shaped confections, and the holiday offers us the opportunity to focus on the artistry of it all," says Dahlia Rissman Graham, who co-owns the award-winning Fruition Chocolate Works with her husband, acclaimed chocolatier Bryan Graham.
This Valentine's Day, Fruition is rolling out a line of limited-edition offerings like their annual 10-piece heart collection, which includes four pairs of filled hearts, a chamomile strawberry and almond filled bar, and a solid bar of dark chocolate dotted with puffed quinoa nestled at the bottom of the tin. Each set of hand-painted or individually airbrushed hearts stars gourmet fillings like mango habanero or passion fruit caramel wrapped in Fruition's Dominican Hispaniola 68 percent dark chocolate. "The mild, balanced flavor profile of the Dominican Hispaniola is a perfect match for subtler fruit flavors," Dahlia says.
All images courtesy Fruition Chocolate Works
Fruition's other limited-edition options also riff on the classic Valentine's pairing of chocolate and fruit. Their strawberries and cream bar is made with local summer strawberries freeze-dried at peak ripeness, then ground and mixed into their white chocolate. To finish, each rose-hued bar is sprinkled with Peruvian cacao nibs. Their chocolate-tumbled raspberries are made from freeze-dried local berries coated in layers of white and dark chocolate, which get an effervescent, champagne-like lift from a touch of popping candy (think gourmet Pop Rocks).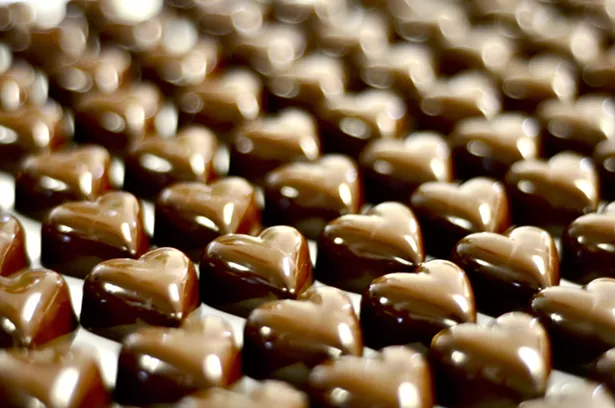 All images courtesy Fruition Chocolate Works
You can find Fruition's Valentine's Day offerings on their website and in-store at their Woodstock boutique. Or rack up some major brownie points with a romantic drive through the Catskills to Fruition's maker space in Shokan, where you and your date can taste any of their varieties and learn about their bean to bar process through a peek in the showroom window.
Fruition's core line of chocolate bars is available at a growing list of shops and retailers, including select Whole Foods in the northeast. For more information, visit Fruitionchocolateworks.com.