In the past few years, Kingston has seen a boom of new restaurants. There's authentic ramen, poké bowls, Polish pierogi, Turkish takeout, wood-fired pizza, doughnuts aplenty, and of course New American fare. Asian fusion restaurants and taco spots abound. But to the distress of many (including this blonde, inexplicably born-in-Bombay writer and resident), the lack of an Indian restaurant—even the garden-variety, chicken tikka, buffet sort—has been acute. But finally, finally, finally Indian food (and pantry staples) has arrived to Broadway in Midtown Kingston thanks to the recent opening of Calcutta Kitchens.
If You Don't Cook, You Don't Eat
Growing up on the outskirts of Calcutta in the late '70s and '80s, Aditi Goswami's home kitchen was a constant flurry of activity from breakfast to midday tiffins and afternoon chai to a big family dinner. While her father was an avid gardener, the kitchen was primarily her grandmother's domain. "I didn't know a life without cooking. If you didn't cook you didn't eat," Goswami says of a pre-takeout, pre-fast-food-era India, where the hearth was still the heart of the home. "My grandmother was a fantastic cook. My father, though he didn't cook every day, was a real food enthusiast. He did the shopping for all the ingredients with great attention to the freshness, the quality, the seasonality. He and my grandmother were the ones who really taught me about how to look at food, how to think about food." And of course, how to cook food.
Goswami's eager participation in the kitchen started as young as four with tasks like shelling peas, and her skill set and responsibilities grew until at the age of 12, she was capable of making full-fledged meals. Like her father, she developed a tandem love of gardening. "I was interested in growing and cooking," Goswami says, "what becomes what, how ingredients are transformed, and how they can be used very differently in different dishes."
After getting married and moving to the US at 25, Goswami was introduced to takeout culture through the American workplace. Still, she held onto her home cooking traditions in rural Connecticut, preparing meals for her family and guests that would come over, in the casual, customary style of Indian hospitality.
"I always loved entertaining in the sense that I liked to feed people, not big parties, just inviting people over for dinner," she says. "Or even if they came for a playdate between the kids, offering them tea and something small to eat." While Americans may retain some distant relative of this custom—offering a glass of lemonade or store-bought cookies to a guest—everything Goswami offered was made from scratch. And friends and neighbors were duly blown away.
So, at the encouragement of her peers, Goswami began making and selling some of her chutneys at the local Connecticut farmers' market in 2009. Within two weeks she incorporated the Calcutta Kitchens LLC, though she still claims she had no intention of starting a business. Chutneys gave way to simmer sauces—pantry shortcuts to make authentic tasting Indian meals in a fraction of the time, with a fraction of the ingredients. Everything was an adaptation of something she would make at home, recipes that could scale affordably and without losing flavor.
In the 13 years since Goswami launched Calcutta Kitchens, the line of chutneys, simmer sauces, and spice mixes has grown to have national distribution, though her first and favorite connection to the public was always through farmers' markets. At her market stalls, Goswami began bringing prepared food to sell alongside her jarred products, specializing in vegan and vegetarian food. "I never could make enough—I saw there was a real demand for this," she says. "Indian food lends itself very well to vegan and vegetarian, even gluten-free, without trying to be something different."
With these years of experience under her belt, the idea for a storefront began simmering on some distant back burner of her mind. Three years ago, Goswami moved to the Hudson Valley and the pieces started to fall into place. "All my farmer friends from the markets were from the region," she says. "I wanted to live where they lived. The community here is very appreciative of this kind of food."
An Ode to Tiffin
In India, "tiffin" refers to a light afternoon meal, the equivalent of high tea in England, merienda in Spain, or the decidedly less glamorous after-school snack in America—a bridge meal between lunch and dinner that can run sweet or savory. The term is also used interchangeably to describe the stacking stainless steel containers that everyone from schoolchildren to business execs use in India to pack their lunches, with different compartments for different dishes. (In big metropolitan areas, massive networks of tiffin wallahs on train cars and bicycles deliver hot, freshly made meals from home kitchens directly to the workplace—the pre-Grub-Hub, OG food delivery.)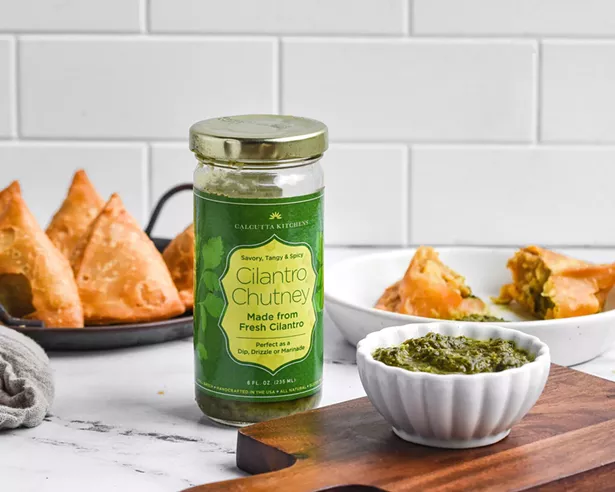 Spiced potato samosa and chutney is a typical tiffin food, which Goswami offers at Calcutta Kitchens in Kingston.
Goswami, who isn't one for a heavy lunch, missed this aspect of Indian life. "In India you have those places you can always go for a chai and a quick snack," she says. "Here you have doughnuts and coffee, but I didn't always want something sweet, or a giant sandwich, or a big plate of food. I just wanted a smallish snack, something in between."
Still, she didn't necessarily think she would be the one to fill this gap in American gastronomy. Living in Accord and a regular fixture of the Kingston Farmers' Market, Goswami started asking around for a commercial kitchen. A friend put her in touch with the landlord for 448 Broadway, Kingston, which had formerly housed Artisan Bakery. "When I saw the space, it was like everything that had swirled in my head all along immediately clicked into place," Goswami says—tiffins, her line of products, Indian pantry ingredients.
Paneer Pioneer
"When I decided to open in Kingston, I didn't know that there was no Indian restaurant here," Goswami says with a laugh. "I was not trying to be a pioneer. I just happened to live around here and I love Kingston, so I thought it would be nice. It felt like the right time and the right place to do it.
Since opening May 4, at her storefront at 448 Broadway, Goswami turns out homestyle Indian food five days a week. Three of those days the meal is vegan, two days there is a meat dish. There is no menu, she cooks what wants depending on the weather and the seasonal ingredients. "It's like your mom's kitchen," Goswami says. "You just go in and ask 'what's for lunch today?'" And I say, 'this is what I made,' and that's what you eat." With an open kitchen where you can see Goswami at work, the feeling is akin to pulling up a chair at someone's kitchen table while they continue chopping and stirring and chatting over their shoulder.
The daily offerings are announced via Instagram stories. Recent tiffins have included chicken biryani with koshimbir, a typical South Indian cold salad; ghugni, a Bengali dried pea curry, with tamarind chutney and sweet pav rolls. "Most Indian food is kind of stewy," Goswami says. "So it tastes even better the next day." For vegetarians who happen to pop in to Calcutta Kitchens on a meat day of the week, there are always extra portions of recent vegetarian and vegan meals available in the freezer, alongside frozen flatbreads like naan and paratha. And there's hot chai and cold limeade to sweeten the deal.
Jars of Calcutta Kitchens simmer sauces and chutneys line the walls of the bright, airy corner space along with select cookbooks. Goswami also sells basic Indian grocery staples from pickled vegetables to the ubiquitous basmati rice, various types of dal (lentils), and some harder-to-find but essential spices like hing (asafetida). There are bistro tables on the sidewalk and inside, arm chairs, and a long communal table, where Goswami hopes to one day lead Indian cooking classes.
At least for this year, Goswami will continue to do the Kingston Farmers' Market, as well as monthly markets in Larchmont, Phoenicia, and Park Slope. "What I know and do wouldn't have been the same without that constant interaction with my customers on a friendly basis, with their feedback informing what I make and the kind of experiences I offer," she says. "I owe a lot to the knowledge I gathered at the farmers' markets, and I feel like I need to maintain that connection."