When Jeff and Liz Keithline's kids moved out of the house, the couple decided it might finally be time to leave Rhode Island after 30 years. "There's this arc of having kids and realizing 'Oh right, they're really not coming back,'" says Jeff. "We thought, 'Well why don't we just look around and see where else we might like to live?'" So he and Liz started spending time on online looking for homes that fit their budget and day tripping to towns in and around Connecticut, where they both grew up.
They soon found themselves gravitating toward Woodstock, whose artsy vibe was a match for a couple who had spent their careers in the arts—Jeff as a musician and Liz as a visual artist and arts administrator. "We were just winging it at the start," says Jeff. "We would come down for the day and see a few houses, grab a bite to eat, and head back."
On one trip, they decided to visit an open house that Dorothea Marcus, a realtor for Woodstock and Kingston-based Halter Associates Realty, was hosting. "There were things we liked about that house, but we really liked Dorothea," says Jeff. "She was so friendly and relaxed, but she was very good at representing her point of view in the business as a matchmaker of sorts."
After that, Marcus and the Keithlines began working together. With Marcus's knowledge of the area and extensive network of contacts, the process of identifying houses became much easier. "We thought, 'Oh this is just much more efficient. She can line up more houses for us to see in a day than we could do on our own,'" says Jeff. "With Dorothea, we could see anything we wanted, plus we got her insights into the community and she learned what worked for us and never wasted our time."
It took just a few more visits to Woodstock for the Keithlines to find the white house on Juniper Lane. Situated on two-and-a-half acres, the cozy three-bedroom, two-and-half-bath home reminded them of a classic New England farmhouse mixed with a vacation cottage from the coast. "It had this funky-artist-cottage-mountain-retreat vibe," says Jeff. "It was just unusual enough for us and certainly functional for what we needed."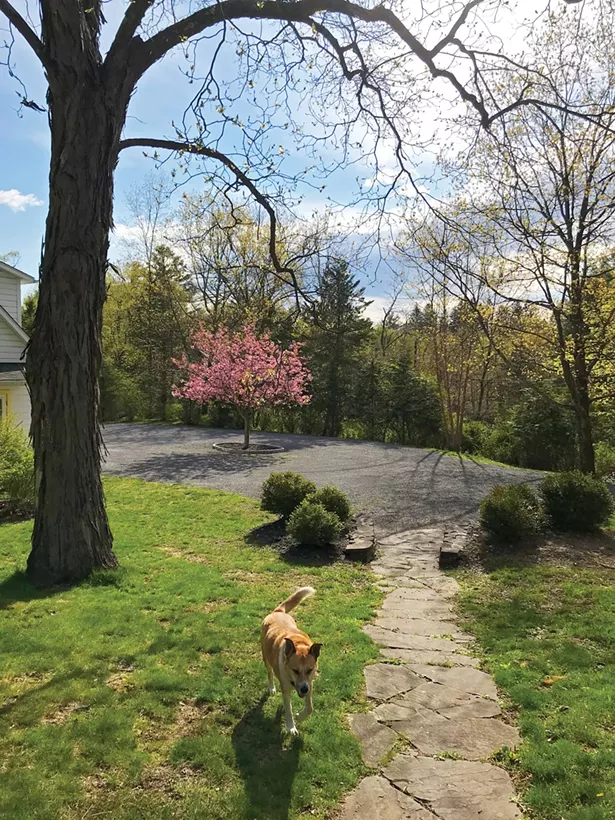 The c. 1925 house had belonged to an artist in Woodstock's original Byrdcliffe Arts Colony. The home was chock-full of charming little details like Dutch doors throughout, a woodstove, exposed chestnut beams, a skylight in the kitchen, and a spacious stone patio. "This house has the best bedroom I've ever had," says Jeff. On the property was also a newer outbuilding, which could easily be converted to the couple's individual studios.
The Keithlines closed on the house in late 2019, mere months before the pandemic hit the region, changing the shape of the cultural activities Woodstock is known for. "Woodstock is a small town with a lot of stuff we like to do, so like anybody else we miss all those things. But we take our dog to the Comeau Property every day and we have a group of friends in our dog group that we probably wouldn't have met otherwise," says Jeff. "As a couple, relocating was also a renewal for us, so we knew that we were going to be spending a lot more time together. And Dorothea is still part of our lives, hooking us up with people and events and making sure we get the most out of our Woodstock life."