Michael Green, a Yale Law School graduate turned financial adviser, got bit by the Newburgh mansion-ownership bug while driving his Porsche through the city's partially boarded-up historic district. In fall 2009, convinced that real estate prices and conditions in Newburgh had bottomed, Green closed on the Fullerton Mansion at 297 Grand Street for an undisclosed sum. He traded his sports car for a pickup truck and began hanging out in the 1 1/3-acre yard, raking leaves, building a stone wall, and chatting with passersby. Ironically, buying an upper-class white elephant reignited his social-justice spark.
Now Green spends most of his spare time, and "too much" money, renovating the mansion, which he makes available to the community in a variety of ways. He's had paying tenants and also subsidized academics; right now he's sponsoring a Cambridge-educated postindustrial cities historian. A painter uses part of the wraparound sunroom as a studio. On January 6, Hudson River Poets will gather for a winter solstice reading.
"Michael's marvelous for Newburgh, and his house is looking so well—he's lightened it up tremendously," says poetry society president Mona Toscano. "These Newburgh Victorians are demanding ladies, but when you give them some attention, they respond beautifully."
Green said that mostly he's done a lot of cleaning and removal of 20th-century materials such as dreary wallpaper and acoustic ceiling tiles. He also took down the heavy window treatments favored by the previous owner.
He Once Bought Her a Deux Chevaux
His wife Susan, a psychiatric nursing instructor, is supportive. "Everyone needs a raison d'être. This place has become Michael's," says Susan, adding that she has yet to sleep over, preferring the family residence, a "normal house in Westchester we've owned for 20 years." But their two adult children thought their father had taken leave of his senses in buying a ramshackle brick 7,000-square-foot, eight-bedroom, five-bath built in 1868.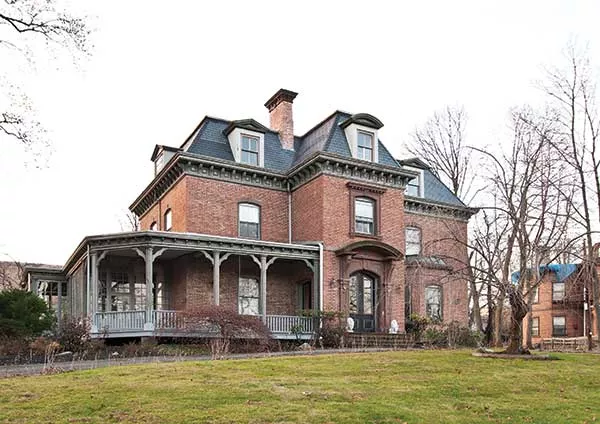 The Fullerton Mansion viewed from Grand Street.
"Michael hates it when people describe him as having deep pockets!" laughs Susan. "I help out with finding antiques at auctions to furnish it, but we're very thrifty."
Susan adds that although her husband's Newburgh hobby is expensive, it's fine because he had a chicken coop built for her birds as a surprise. A few years ago, he bought her a 1968 Citroen 2CV, popularly known as a "deux chevaux," an iconic French economy car. "That's just what you do in a marriage, you support one another's interests," says Susan. "Plus, it is a house—we can live in it. We just don't yet."
Designed by an unknown architect in the Second Empire Italianate style as the summer residence of wealthy New York lawyer William Fullerton, the Fullerton Mansion slid as Newburgh's fortunes slipped, eventually becoming a funeral home. Then it was chopped into illegal apartments. Green bought the place from local businessman Michael Gabor, who had owned the property for about 14 years and had run out of improvement funds.
"My son asked me what I was going to do with this house," says Green. "I said, 'Why, I'm leaving it to you and your sister when I die.' He said, 'Well, it's going on the market 15 minutes later.'"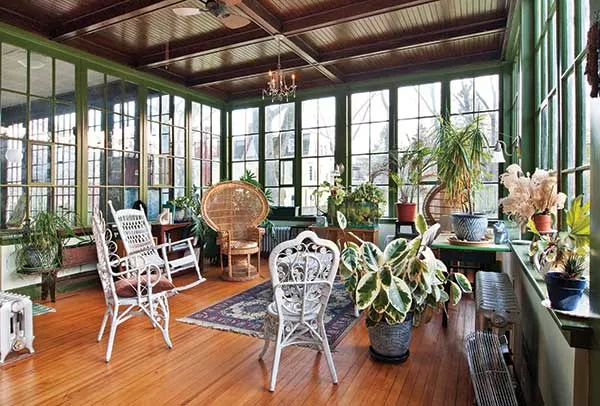 Newburgh Is for Gardeners
Daughter Rebecca says that although the Fullerton Mansion is clearly "Dad's house," she's grown fond of it. "My writer's group met here once, and I run a blog that supports my father's wider Newburgh efforts—it's called Newburgh Is for Gardeners," says Rebecca, a technology marketer who lives in White Plains.
Green's posts about what he loves and loathes about Newburgh are beautiful and poignant. In "My Ghetto and Me," he laments the crack epidemic as seen through the wares of the local bodega, which sells love roses, a quasi-religious accessory theoretically purchased as a romantic gift, for $5. The glass vial encasing the rose makes a perfect crack pipe. Addicts cast the rosebuds into the street.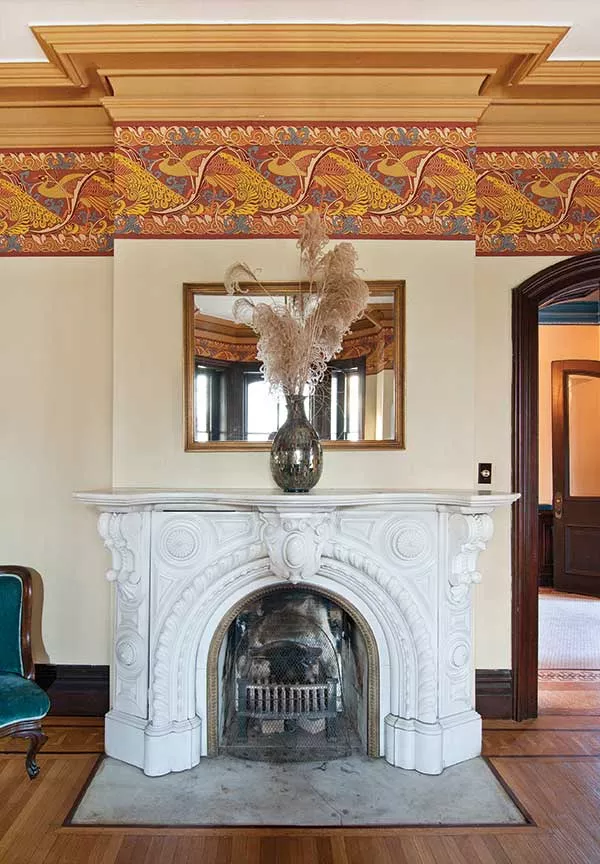 The sitting room fireplace.
If Green had known in 2009 what he knows now...but he loves the committed residents active with the Historical Society of Newburgh Bay and The Highlands. But his less-invested neighbors frustrate him, as does lack of employment. "There was a big tax increase shortly after I bought—that didn't help," says Green. "Then New York magazine printed an article calling Newburgh the murder capital of New York and scared people off."
Green says he rarely stays overnight in Newburgh. "My dog Bugsy hates it," he says. "But the current plan is that when we retire, we're going to sell the Westchester house, buy a small place in Gloucester, Massachusetts, where Susan has family, and move into the mansion's separate third-floor apartment. I anticipate we'll continue to have tenants—it's zoned two-family. There's also the carriage house—that's another 3,000 square feet."
Built for Robber Baron-Business Litigator William Fullerton
Nationally acclaimed for withering cross-examinations, Fullerton got rich winning business disputes for the ruthless railroad tycoon Jay Gould. Fullerton was also associated with Boss Tweed's notorious political machine. He was married, with two children; Fullerton and his wife retired and died in Newburgh, where there's an eponymous street and stained-glass church window. Fullerton was briefly a state supreme court justice, appointed in 1867 to fill a vacancy caused by death. But mostly he was regarded as a legal pitbull.
Like Green, Fullerton hunted for luxury bargains. The music room's white marble fireplace appears to be an Italian antique, probably looted from the mother country during Italy's War of Independence. Fullerton also bought a horse farm in Virginia out of the Civil War's hot ashes. His granddaughter married into the Otis elevator family.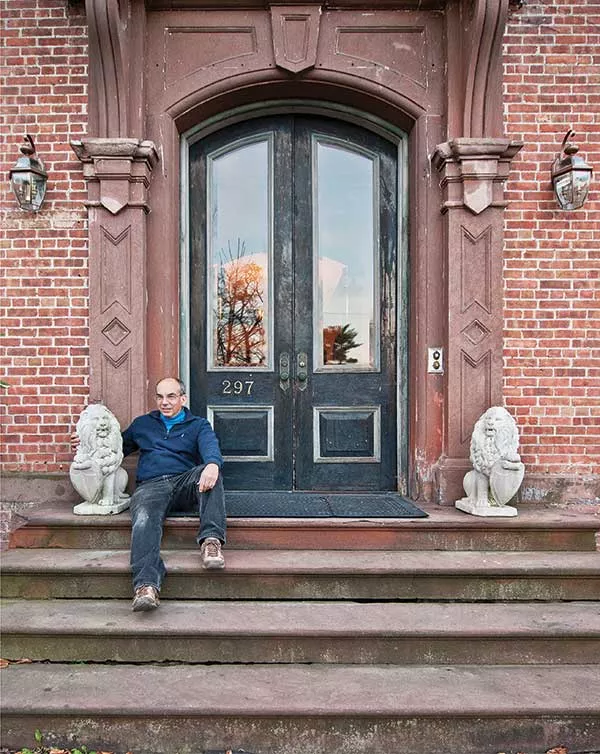 Michael Green on the front steps with granite lions that belonged to his mother.
Wanting More for Newburgh
The giant copper beech tree on the estate's southern corner is at least 200 years old and likely transplanted, along with several other old-growth botanical specimens, by Newburgh's most famous son, Andrew Jackson Downing, the father of American landscape architecture.
Other design notes: the blue-and-rust floor tiles of the front entrance reflect a Moorish design influence. The walnut-paneled library has the formidable air of a courtroom. Although the house was built before indoor plumbing, it boasts Newburgh's oldest indoor shower, according to a 1908 newspaper article. The decorative plaster crown molding of the dining room—the fanciest and most finished chamber—depicts morning glories amid clusters of grapes. Green had it restored—parts had crumbled due to water damage—and hired artist Dan Gubizzi of Millbrook to paint the walls in silvery leaf. The effect is very subdued and formal. The Greens use the dining room for parties and fundraisers, and have eaten Thanksgiving supper there too.
"I wanted to bring the nature of the Hudson Valley into the house but not in a way that would have offended the Victorian sensibility," says Green.
The financial crisis would have never happened had the regulators known what his plumber recently taught him. "Hot water goes on the left, payday is on Friday, and you know how shit flows," laughs Green.
"Working on this house is my therapy. But I want so much more for Newburgh. This could be such a great city," says Green. "The views of the river are much better than Beacon's. And there are so many great people, it's just crazy."
The sitting room of the Fullerton Mansion is sometimes host to community events like poetry readings.