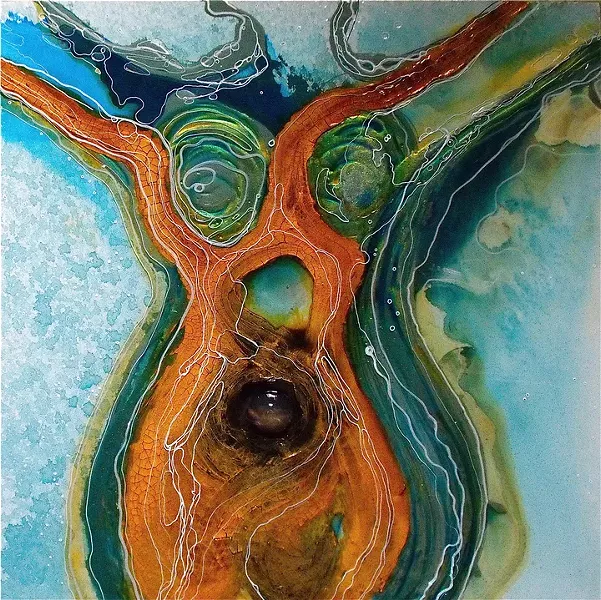 Carla Goldberg, Goddess of the Hibernation, 36x36
Tai Burnette's
career has been a patchwork quilt of wildly different phases—long stints in property development, as a life coach, Nashville songwriter, and musician-at-large (opening for the likes of Alison Krauss and John Hiatt, no less).
"Life coaching is all about an ontological support of people's goals," Burnette says. "A couple years ago, I started to really miss that. So I thought about how I might get back into that in a meaningful way." She settled on supporting artists and began searching high and low for a space—Florida, Long Island, Upstate. Both of Burnette's grandmothers were artists, one a gallerist to boot, and she was groomed to be a painter from a young age, so it's no surprise that owning a gallery has been a lifelong dream.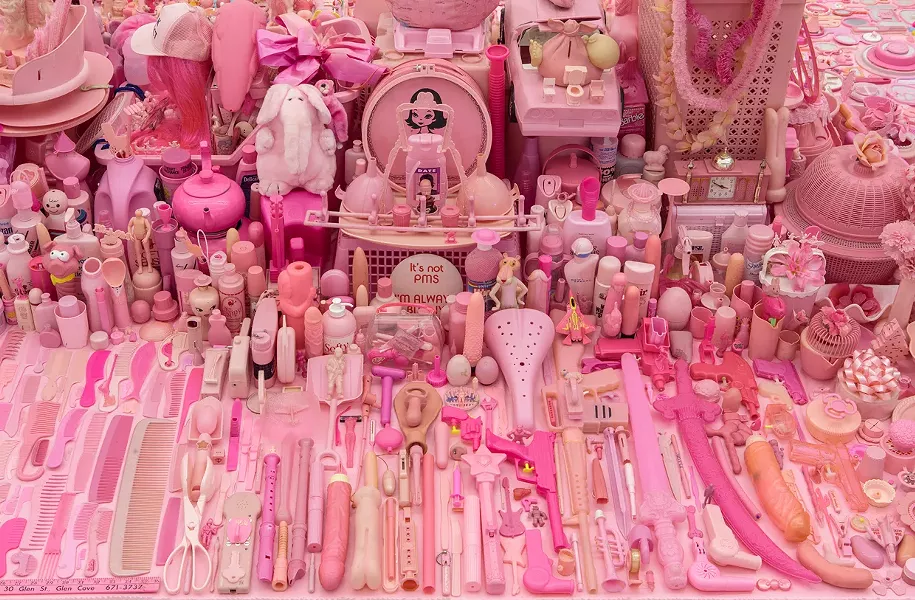 Portia Munson, Pink Project: Table, archival print, 15 x 23 in.
For the past 25 years, Burnette has lived on and off in Woodstock, so when the Framing Gallery in town became available, she pounced. After many months of renovations, she debuted the exhibit space in July with an emerging artists show titled "Bite Me." "There are people who create and there are people who creatively help those people attain an audience," she says. "I am that latter, and I embrace the challenge."
Burnette is drawn to art that is a genuine exploration and expression of the human condition in all its many forms, regardless of geographic origin. "I am interested in art that comes out of struggle and strife," Burnette says. Herself a victim of child abuse, Burnette has spent a lifetime processing trauma through creativity. Her forthcoming single "Border Bound" is about immigrants and war refugees. "Art is what separates us from animals," she says. Along with the gallery, Burnette has started the nonprofit Emerging Artist Foundation. Proceeds from select exhibitions will go to the foundation, which will support artists who can't afford supplies.
The gallery will host six-week themed exhibitions with a broad mix of media—from sculpture to fiber to video art installations—chosen by a changing cast of curators that Burnette will personally tap. Some of the upcoming themes she is considering include an exploration of geographic borders, female artists in Islamic states, transgender artists, and contemporary American prodigy artists under 21.
Sky Kim, Untitled, Pen, Ink, Pencil on Paper, 18x24
"Art should change you or move you. It's important that I have curators that bring in art that I don't necessarily understand or like," she says. "I want this gallery to be an experience every time."
In the coming months,
Burnette Gallery
will expand into the second floor of the Framing Gallery and in spring, the backyard will be converted into a sculpture garden. "Woodstock needs to move past this tie-dye festival thing and return to its roots as an artists colony. We have a huge history here," Burnette says. "The Hudson Valley should be like Naples or Santa Fe—a destination people visit to buy art."
Amy Cheng, Closer and Closer, oil on canvas, 38x42
"Fire in the Belly" will open at Burnette Gallery on October 11. Curated by artists Laura Gurton and Carole Kunstadt, this exhibition explores identity, fantasy, mythology, and sensuality through the lens of 26 female artists in the New York region. The artists' reception will take place during the Woodstock Film Festival at 6pm on October 13.

"Fire in the Belly" will run from October 11 through November 25. Visit the Burnette Gallery Facebook page for more details.