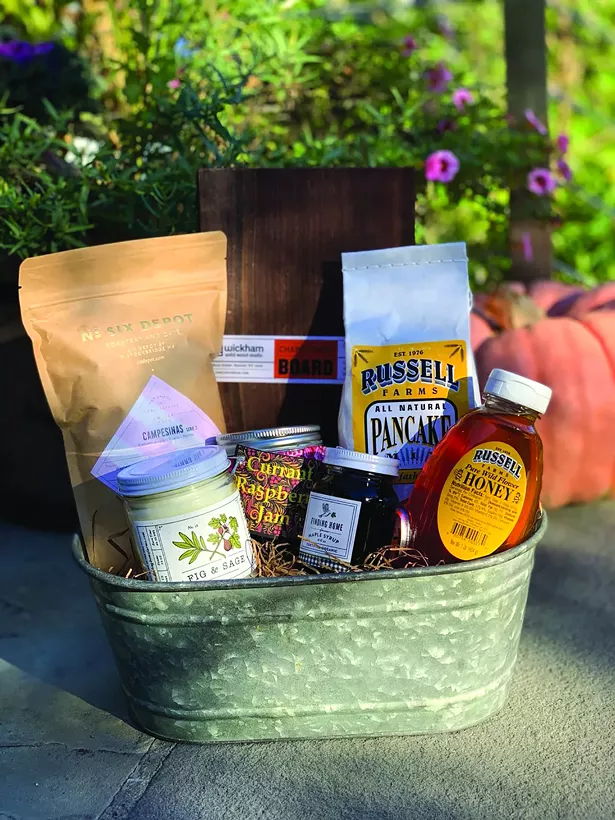 Gift baskets are as much a hallmark of the holiday season as mistletoe kisses or family bickering. This year, rather than ordering a generic basket filled with fruits and products from faraway places, take advantage of the abundance of Hudson Valley to build a personalized gift.
Main Course in New Paltz is a great starting place for any gift basket. The marketplace stocks a wide variety of farm-fresh goodies and essential upstate adventure gear, from cooler backpacks to travel mugs. Catering director Amanda Serroukas offers four ideas to help you build the perfect gift basket (and if you're in a pinch, you can also order one ready-made from Main Course).
1. Local Foodstuffs. From roadside stands to farmers' markets to marketplaces like Main Course, there are many opportunities to stock up on local food products like Russell Farms honey, ImmuneSchein elixirs, Wrights Farm jams, or Harney & Sons teas.
2. Artisanal Goods. This region has an abundance of artisans—jewelers, leather workers, weavers, potters, and herbalists. Why not give a handmade mug along with that bag of locally roasted coffee beans or a knitted scarf and some wildcrafted lotion to combat the cold months ahead?
3. Culinary Experience. In the last year, the Hudson Valley has seen a surge of pop-up food events, like Main Course's annual Winter Dining Series. These themed monthly dinners offer an intimate evening with curated decor, drinks, and a gourmet tasting menu.
4. Outdoor Gear. From hiking to rock climbing, sailing to skiing, the Hudson Valley offers endless outdoor recreation opportunities. Main Course sells a selection of gear to make excursions more convenient and comfortable.