Page 2 of 3
"'What are you talking about? How much is it?'"
"He says, 'Don't worry about it, it's your house.'"
That house was the circa-1880 Victorian in Poughkeepsie, and Alex, who worked in construction, helped renovate the house for Hudson River Housing. According to Jennifer, Alex told her: "I think God was telling me that this was going to be your house."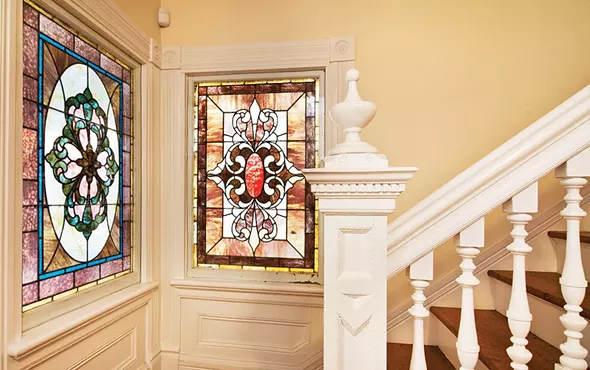 A Major Renovation
Previously, the house was unlivable. "When we took that property over, it was very different from what you see today," says Mary Linge, director of real estate development for Hudson River Housing. Working with numerous vendors, the nonprofit spent $480,000 to renovate the house. They did extensive work on the roof, repaired water damage to the attached apartment, extended and widened the driveway, and furnished the home with energy-efficient appliances, including hot-water heaters, a refrigerator, and an oven. They also kept and restored the original 19th-century features of the house, including patterned tin ceilings, hardwood floors, three fireplaces, and three show-stopping stained-glass windows in the entryway and stairwell.
Keeping true to the integrity of the structure is a goal for every property Hudson River Housing buys. The organization seeks properties with historic value, renovating them extensively so they can retain as much of their original appearance as possible. "Knowing that the people here long before us have built good houses and have good stories, we want to invest in what's already there and bring it back to its original splendor," Linge says.
Hudson River Housing also aims to work with people who want to settle in and add to the history of the communities they renovate. They saw that in the Rosas, who together made less than the $52,000 eligibility cap established by Hudson River Housing.
The Rosas, however, encountered problems when attempting to secure a mortgage. "The first banker actually thought it was a scam," says Jennifer. "He said, 'This is way too good to be true. I advise you to leave." A second banker wouldn't help the Rosas because of their lack of established credit. So they turned to Hudson River Housing, whose affiliated counselors advised them to produce any and every bill payment receipt to show they could meet payment deadlines. They did go to another banker, who gave them their loan.
An Agreement to Stay
The Rosas, with baby Hannah, who was born in March, moved into the Victorian in August. As per their agreement with Hudson River Housing, the Rosas are required to stay in the house for 10 years, plus install a tenant in the attached apartment. Jennifer took a one-hour landlord class, and both she and Vinicius underwent one-hour first-time-home-buyer training, all through Hudson River Housing. So now they understand how to budget expenses, such as the woodstove Vinicius hopes to install for winter, to take advantage of the house's three chimneys and to cut down on heating costs.
"We are tight in the sense that we cannot waste money," says Jennifer, who recently launched a small baking business, 58:10 Pastries. The name is a reference to a passage in Isaiah that exhorts believers to feed the hungry and assist the oppressed. Jennifer plans on donating 10 percent of profits to organizations that help fight human trafficking. The Rosas also hope the baking sideline will add to their income. "We may not have furniture for a while."
What they have, though, is a home.
Helping-on-Hudson: Hudson River Housing
School board members, city officials, restaurant workers, and social-service workers are some of the thousands of people Hudson River Housing has helped through their work developing Hudson Valley communities.
Founded in 1982, the Poughkeepsie-based nonprofit originally focused on providing services for homeless people in Dutchess County. But through the years, Hudson River Housing has expanded to work with prospective hom buyers and budget-constrained individuals, families, and seniors. It provides emergency and transitional housing, supported housing for people with mental illness, foreclosure prevention counseling, and street-based outreach programs for youth. The work is designed to strengthen diverse neighborhoods through education and shelter.
"If neighborhoods are strong, people are going to be happier and healthier," says Elizabeth Druback-Celaya, director of organizational and community development for Hudson River Housing.
In its 33-year history, Hudson River Housing has developed more than 960 residential and commercial units, actively managing around 800 of them. Another 200 units are in their development pipeline. And 45 units have been sold by Hudson River Housing to first-time home buyers; one of them is the 1880 Victorian in Poughkeepsie owned by Jennifer and Vinicius Rosa.