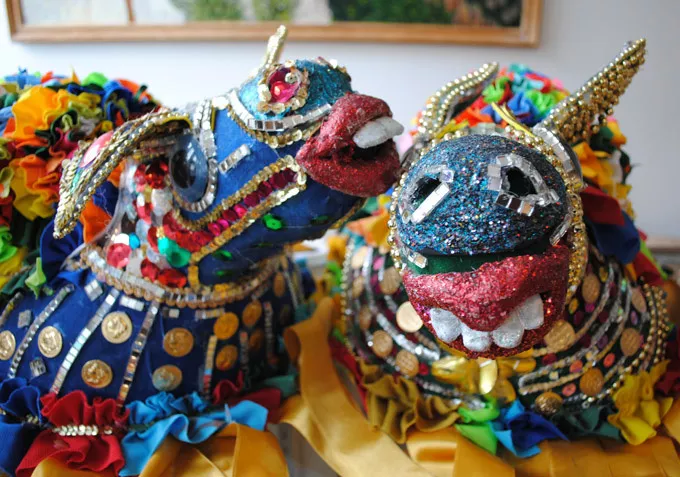 This Sunday, October 9th, Rosendale's continuing cultural explosion will be on particularly colorful display as it hosts the "Bahia Brazilian Fest Boi Homen" pageant.  Fantastically adorned dancers and drummers will take to the streets in celebration of this Afro-Bahian tradition from 12-4pm, converging in Willow Kiln Park, located behind the Rosendale Theatre.  And, as with all of the best outdoor send-ups, remember to wear comfortable shoes: you're invited—nay, encouraged—to join in.
Hosted by the Dutchess County Arts Council, and Rosendale's Elders Drum Project TRANSnDANCEnDRUM Center, the pageant is the taking shape under the direction of visiting Brazilian dance legend Emilia Biancardi.  Biancardi has been in Rosendale for two weeks leading free workshops, culminating in Sunday's lavish costumed music and dance performances.  Biancardi is a musician, composer, professor, and ethnomusicologist, who developed and directed the first Folkloric dance company in Brazil to tour internationally with the world-famous "VIVABAHIA" production in the 1960's, popularizing much of the music and dances of Bahia.  She also founded the local all-female Brazilian folkloric ensemble known as "IABAS". Biancardi has pioneered awareness and exposure for Afro-Bahian music and culture for decades, and has presented it on stages all over the world.
Originally a Christmas pageant brought to Brazil from Portugal during colonialization, the "Boi Homen" is a tradition which initially derives its roots from medieval times.  Blended with indigenous Brazilian fire, the celebration translated into an impressive display of accoutrement, music and dance, both on horseback and on foot.  Though minus the horses, the Brazilian Fest should still be a sight to behold—or to participate in.  Free workshops for drummers, dancers, and performers will run each night through Friday, October 7th, from 7-9pm at the TRANSnDANCEnDRUM Center, 415 Main Street in Rosendale.  For more info, visit
www.transndancendrum.com
.