Page 2 of 3
Buns-n-Bourbon
Christine Ashburn
Buns-n-Bourbon in Peekskill.
Peekskill is welcoming the irrepressible Buns-n-Bourbon, a party-hearty alter ego to the kid-friendly Taco Dive Bar in the same building. The focus here is on fine brown spirits and good party-nosh, like burgers, dogs and fried sandwiches priced from $6 to $9 and several kinds of fries to choose from. But this party-nosh has an updated, locavore feel—you'll find Amish or grass fed beef, goat cheese, green papaya cabbage slaw, and veggie-bun food like a chargrilled portabella with Havarti and basil-truffle mayo. Perfect place to relish heart-pumping rock played a little bit loud, crazy movies on the big flat screen, a few adventurous shots and an evening's laughter.
55 Hudson Avenue, Peekskill. (914) 788-2867; Bunsnbourbon.com.
Plantae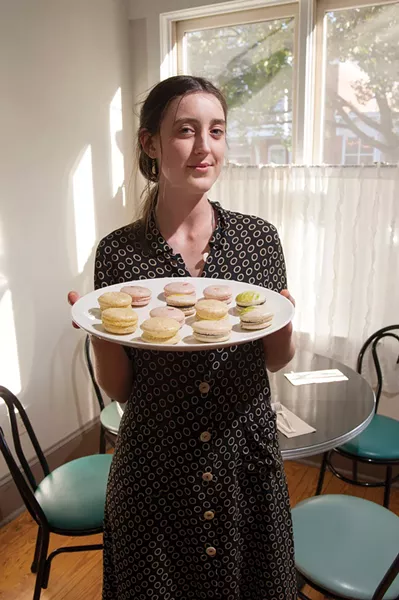 Christine Ashburn
Joy Risk at Plantae in Tivoli with a plate of macaroons.
Vegetarians and vegans are flocking from near and far to experience the tacos, curry bowls and other top-notch delights at Plantae, where healthy, ethical fare is the raison d'etre rather than an afterthought. Plantae is a cozy charmer, with outdoor and upstairs mezzanine seating and free Wi-Fi; bring your own alcohol if you'd like. Brazilian-born head chef Raquel Osorio has come here after stints in the East Village and in Red Hook to enhance the magical sweetness that is Tivoli with a world class "masterpiece for the masses," serving dishes such as arugula fruit salad ($15), an "Avo BLT" that pairs avocado with sweet barbecue tempeh bacon ($13) and hearty bean chili topped with your choice of cashew crème or avocado and served with organic corn chips (cup, $6; bowl, $8).
55 Broadway, Tivoli. (845) 757-2200; Facebook.com/plantaeTivoli.
Garvan's
Sometimes things really do work out for the best. Visitors to Shea O'Brien's on Main Street in New Paltz were much enamored of the hospitality of manager Garvan McCloskey. When that restaurant closed in 2015, people missed Garvan terribly. Meanwhile, the owners of the Rock n' Rye, an historic 1759 building at the end of Huguenot Street on the bucolic grounds of the New Paltz Golf Course, wanted an heir fit for an exceptional business. The combined dilemmas gave birth to Garvan's, a gastropub and dining room where you can feast on surf-n-turf ($29) or a jumbo shrimp scampi ($24) while your vegetarian pal savors a Vegetable Napoleon ($19). Garvan's is warm and artful, the kind of place that's perfect for a special date night or celebration or a gastropub lunch in the middle of a stressful week.
215 Huguenot Street, New Paltz, (845) 255-7888; Garvans.com.
Essie's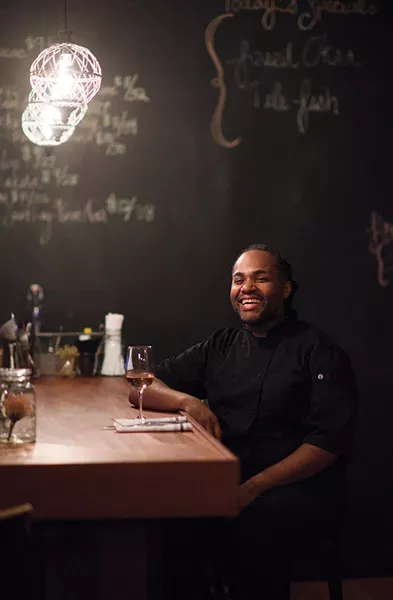 Christine Ashburn
Brandon Walker at Essie's in Poughkeepsie.
Chef-owner Brandon Walker first came up from the city to study at the Culinary Institute, falling in love with both the mid-Hudson and his future wife. After graduation, he worked his share of 3-star Manhattan joints and did some culinary globetrotting, always dreaming of the ideal Hudson Valley restaurant to call his own. He found it in Poughkeepsie's historic Little Italy, and Essie's (named for his grandmother) was born, with industrial-chic decor and a casually elegant ambience. Walker's CIA education, global journey, and sense of fun all inform his locally sourced New American comfort cuisine: expect to taste echoes of Caribbean, Asia, Classic French, and Mediterranean Spanish in snacks (country ham Cheddar corn muffins, $7), small plates. and entrees such as chicken and dumpling ($21) and cavatelli ($19).
14 Mt. Carmel Place, Poughkeepsie; (845) 452-7181; Essiesrestaurantpk.com.
Butterfield
Reinventing the former Inn at Stone Ridge was a tall order. How do you preserve the absolute best of a 250-year-old gem while updating it to sleek perfection? Leave it to Brooklyn-based Gowanus Hospitality Group. Designer Akiva Reich was equal to the challenge, adding a ton of windows for a sunshiny, airy feel and bringing in Chef Shawn Burnette to run Butterfield. The very name hearkens back to a colonial colloquialism about the excellence of the surrounding land; Burnette's stated goal is to source everything from within a 20-mile radius. Come get in on the flavor with housemade lamb sausage ($14) served with herb and almond puree or bone-in ribeye for two (market price). In case you're tired after your meal, the property house a 20-room boutique hotel.
3805 Main Street, Stone Ridge, (845) 687-0736; Hasbrouckhouseny.com.
Bartlett House
Somewhat off the beaten path in Ghent, northeast of Hudson, you'll find a new and not-to-be-missed culinary experience at the Bartlett House, a blend of historic preservation, locavore consciousness, sustainable ethos, and just plain good food. A national historic site on Route 66, the Bartlett has been fitted out with a state-of-the-art kitchen and bakery featuring ethically sourced coffee, an approachable menu featuring locally sourced goodies and delectable baked goods, and a shop where you can purchase eclectic housewares and specialty foods to take home.