On the dedication page of Do My Story, Sing My Song, Jo Salas quotes Oliver Sacks: "To restore the human subject at the center—the suffering, afflicted, fighting human subject." This quotation, from The Man Who Mistook His Wife for a Hat, could serve as a mission statement of sorts for Kathleen Sweeney's Maiden USA as well. Both of these books explore the central question of safeguarding for our children the right to have and to use their own voices.
Maiden USA begins with an extremely scholarly parsing of media phenomena such as lipstick Lolitas, the virgin/slut dichotomy, Mean Girls, Barbie, and fear of menstruation. Though the book seems a bit overwrought (or perhaps overthought) at some points, these idiosyncrasies are well worth forgiving in order to share Sweeney's insights into the state of young womanhood at the turn of the millennium.
For, unlike so many analysts of pop culture, Sweeney, who has worked extensively as an educator in the Mid-Hudson Valley, doesn't stop at identifying the problem. There is good news out there; in the emergence of powerful female icons (one has to love an author who distinguishes icons and eye-cons) and in the growing tendency of young women to step out of the passive role of object, creating media of their own. Inside the queen bee of a swarm of Mean Girls may well lurk a frustrated Fellini. Maiden USA is a fascinating read for all who care about the well-being of young women—and young men, for clearly the well-being of one impacts the other.
In Do My Story, Sing My Song, the population under scrutiny is troubled children—severely troubled. Salas began doing music therapy at a residential treatment home for emotionally disturbed kids as a pioneer, patching together a program that initially had little in the way of funding, facilities, or comprehension from her superiors.

Salas' storytelling method fits her subject matter perfectly. We come to know and care about the author and the children she meets, some of whom will go on to self-sufficiency and others fated to lifelong institutionalization. From this perspective, the common sense of what once seemed a radical notion becomes obvious: there's just about nobody on this earth is not helped in some way by facilitated, nurtured self-expression. Salas reaches kid after kid, first with music and then, as her confidence grows, with the more involved methods of Playback Theater. For some children, the resultant gains spill over into academics and interpersonal skills. For others, the music therapy room may be the only place where the light of something healthy can shine, and Salas is honest about this. She makes a powerful case for the innate right to such creative expression.
Both books touch on key current issues. What is at the heart of a huge brouhaha like the Texas polygamist cult scandal, if not our comprehension of maidens in the USA? Is it possible that some of the many thousands of children who are prescribed psychiatric medications would be better served by being handed an instrument, a script, or a camera? For anyone who believes that society is better served by ardent creators than by passive consumers, teachers like Salas and Sweeney offer thoughtful maps.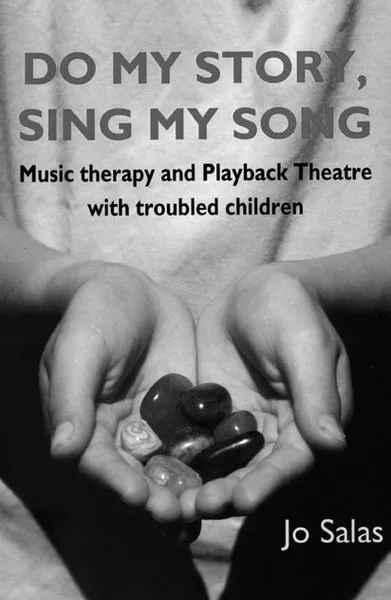 Music therapy is used for treatment for severely troubled children in Do My Story, Sing My Song.
An insight into the state of young womanhood at the turn of the millennium is explored in Maiden USA.