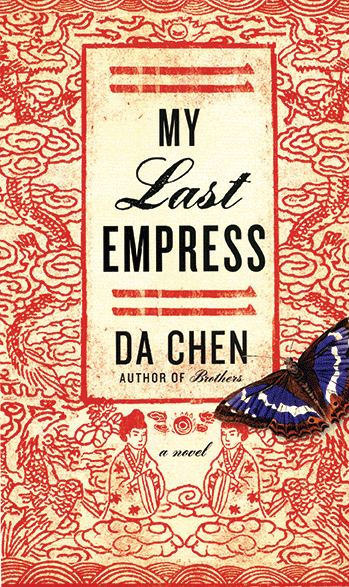 My Last Empress, Da Chen, Crown, 2012, $25.
Two noteworthy new novels are narrated by old men who, in different ways, have failed as artists. Serving the twin purposes of catharsis and redemption, these fictional memoirs promote the notion that being a member of the creative class is itself a kind of success.
The fin-de-siècle Yalie Samuel Pickens, who pens Da Chen's
My Last Empress
, wants us to know that he has "not led a fruitless life, but an immortal one." The would-be memoirist first burst into obsessive scribbling after his teenage muse, Annabelle, perished in a freak accident—a fire caused by the embers of her opium pipe as she offered him her maidenhead. After this, Pickens is possessed by the ghost of the girl, who was the daughter of a prominent missionary. His aspirations as a sonneteer are dashed as he is guided by her ghost (whose existence is someplace between metaphor and mirage) to study Mandarin, becoming the British-appointed tutor to the sexually and politically impotent Chinese emperor.
Chen's narrator exhibits a lucid take on his own abnormal condition, and chooses to run with it unconcerned. "A tethered man could barely glimpse a heaven-bound kite, let alone the stringless one that I am," he observes, upon refusing to play informant for a colonial intelligence agent. Pickens befriends his pupil's prized consort, Qui Rong, one of five empresses. She seems to be Annabelle "in flesh and blood." Their maze-like adventure in the Forbidden City involves speedy escapes, looted antiquities, confused paternity, and an insidious troop of eunuchs. Longtime Highland resident Chen displays chops at erotic description. His sly memoirist borrows from the giddy tradition of Fanny Hill and Josephine Mutzenbacher: "Wretchedly she weakened me with her parched lips and quivering tongue." The nexus of genital and spectral inspires his ripe lyricism: "Oh, my ape heart, thawing and melting in one monstrous beat and phantasmal rhyme."
Renato the Painter, Eugene Mirabelli, McPherson & Company, 2012, $25.
In
Renato the Painter
, by Delmar resident Eugene Mirabelli, the unity of the narrator's life and vocation is demonstrated in his descriptive habits: "A handsome face seemingly drawn from black lithograph crayon" or, "an Art Deco face, composed of a few smooth planes." Retired from teaching at a second-rate art school, Renato—70 and newly sporting a white beard—is desperate to show in a selective Boston venue. When an interested gallerist paying him a compliment confuses Klimt and Schiele, a dismayed Renato offers his readers an anecdotal tutorial on the difference between the two masters. That his own work will not outlast him is a crushing realization, yet he has managed to keep his certainties intact: "It's a long lonely trek where you paint not for viewers who never come, but simply because you can, because you're good at it." Never having taken a theoretical slant, he is irked that computer art and feminist critique take up wall space he covets. Old associates have triumphed by staying saleable or having accolades sufficient for a Globe obituary. His closest friend, whose art discourses sustained him, recently died, and Renato's wife, who covers art for the
New England Newsletter
, has never vouched for his work.
Undaunted, Renato still makes love to the two mothers of his three college-educated children; his intake of coffee, biscotti, zabaglione, Asti, and Cinzano is documented with a bittersweet charm. A story slowly brews when a young homeless woman with a child moves into his studio, disrupting his routine. Grudging in the role of hero, our memoirist sees that his life is not without laurels.