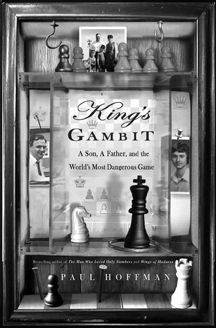 Paul Hoffman, Hyperion, 2007, $24.95
Najdorf Dragon, Poisoned Pawn Sicilian, Four Knights Opening, Two Turtle Doves, Nimzo Indian, and the Ruy Lopez. Question: Which of the preceding wouldn't know Vladimir Kramnik from Anatoly Karpov?
Chess—you don't have to be nuts to find yourself in its bondage, but evidently it doesn't hurt. Woodstocker Paul Hoffman tows readers into his thrall with the game, and he's not nuts. Neurotic, sure, though he doesn't hold a candle to Bobby Fischer or Paul Morphy, who stomped the grounds of Bedlam with a host of other chess-addled inmates.
Exploring the dark side of chess is just one thread in King's Gambit, a neat piece of participant/observer journalism with an overarching narrative of self-awareness. The chessboard serves as Hoffman's couch, from which he investigates the emotional tribulation of his early years. To wit, his hugely appealing, mischievous, feckless, insecure, unsupportive, pathological liar of a father—writer, professor, political progressive, hustler, and shill with plenty of baggage he left for the younger Hoffman to unpack.
Hoffman's father introduced him to the game and by dint of circumstance—separated from Hoffman's increasingly reclusive mother, he lived in New York's Greenwich Village, a minor Mecca of chess—fed his son's growing involvement. Hoffman got good enough that chess gave him an identity to measure against his overwhelming father and a sanctuary from the unnerving turmoil of home life.
Disillusion came after college. Hoffman's progress was stymied; he could not coax magic from the board like a grandmaster. He took a 20-year hiatus. He became something of a bright star in the publishing firmament. Then a quixotic boss soured his dream job at Encyclopedia Brittanica and a painful, disfiguring, idiopathic ailment shook him to the core. Once more, chess became a sanctuary, an avocation, and now, a vocation, with Hoffman as a writer and commentator on the game.
Hoffman made it his job to rub shoulders with, and cadge games from, absorbing characters in the chess world, which gives his work a critical sense of engagement beyond pure reportage. The writing is deliberate, the words carefully chosen, yet the rhythm is unlabored and refined. His gin-clear profiles of Bruce Pandolfini, Garry Kasparov, Pascal Charbonneau (in a terrific, Ionesco-like Libyan interlude), Nigel Short, and Jennifer Shahade are welcome antidotes to the game's madfolk. Stratospheric players with their own portfolios of quirks, they maintain enough distance from the game to speak informatively to nonplayers, yet retain the mystique of great play, where intuition permits the consideration of a move—its beauty and rightness—after it has been made.
Not to say that chess's bad boys—self-entitled, immature, ungoverned—don't exert their own fascination. Hoffman gives them their due. "Because chess culture has turned a blind eye to how chess players dress and speak (or whether they can even speak at all), chess culture is a haven for social misfits," writes Hoffman, with ammunition to back it up. "Chess doesn't drive people mad. It keeps mad people sane," says a British champion. Well, hardly; dumbfounding theatrics and grotesqueries litter the book, as do pleasingly colorful tidbits like Ben Franklin playing a game with a married French lady while she is taking a bath.
Meanwhile, as Hoffman deciphers the perplexing chessboard of his life, he finds enough disturbing similarities, and blessed differences, with his father to keep his hair on fire. Unlike Father, his heart is soft but strong, hitting 140 bpm as he sits—sits!—before the chessboard, with no relief in sight. Sounds suspiciously like self-inflicted torture, and another bag to unpack.