Food, glorious food. There is nothing more basic and yet nothing more controversial: The first communiqué issued by every newborn life, regardless of demographic or even of species, usually translates to "Feed me!"
Be you vegan or carnivore, serial dieter or unrepentant Frito freak, there is much mental nourishment to be found within the pages of Feed Me!, wherein Harriet Brown has gathered the musings of 23 gifted writers. As she points out in the introduction, "fat" is a loaded word with hugely negative connotations, and one of the last distinguishing characteristics people are allowed to joke about. From the breathless gossip-rag monitoring of every ounce celebrities gain, to warnings about a childhood obesity epidemic, we are a culture confused about nourishment.
The essays in this book are pleasingly free of political cant, even when focused on the politics of body image. The "dish" in the title promises intimacy. The book delivers, with honest and fascinating memories of the ways in which food acquires its connotations. As we chew, swallow, and digest, we are dancing with layer upon layer of cultural messages and barely visible emotional baggage, and the surrounding issues can become matters of life and death. Food has become nearly as fraught as sex—reading these generous helpings of self-reflection, one can see through layers of illusion and perhaps come one step closer to understanding one's own relationship with plate and fork.
Body issues are most definitely a matter of life and death in Woodstock author Rivka Tadjer's Two Weeks Under, a novel which postulates the Next Big Thing in getting smaller: two weeks in a "vanity coma." That this whole concept sounds plausible is, in itself, a measure of how desperately important thinness has become to so many. In chapter one, we meet Pam, a bright and funny young woman who's struggling with love and career, living in a shiny corporate world that demands she be at her "best." To achieve that best, she's enlisted an antianxiety med called Normal and a procedure called The Metamorphosis.
Tadjer's take on the Lifestyle Industry is viciously funny: We meet Pam on the day her employers have installed clear, soundproof cubes to forestall inefficient little human interactions once and for all. In a brave new world smelling of Scotchguard and crackling with claustrophobia, she suffers the indignity of seeing her latest idea pirated by an unethical, stick-skinny wench.
Pam's convinced that after her coma, all will be better—thinness will make her an unstoppable magnet for men and success. But she never gets to find out whether that's true, becoming one more of what, in Tadjer's cold, glittering world, has become a Trend: apparent suicides of thirty-something women, charged off to "Exhaustion Syndrome."
Even in the post-postmodern world she inhabited, Pam wasn't entirely unconnected—a man was developing feelings for her; a half sister who hadn't known of her existence dares to take an interest in her fate. They find themselves embroiled in a dangerous struggle with a sociopath as scary as any in modern fiction, endangered still more by the confusion between appearances and reality that makes trust a rare commodity. Two Weeks Under works both as a gripping thriller and a reflection on the age of televised liposuction and the 24-hour news cycle.
Rivka Tadjer and Feed Me! contributors Sari Botton, Dana Kinstler, and Lisa Romeo will read at Inquiring Mind/Muddy Cup in Saugerties, Sunday, April 26, at 4pm.
Feed Me! Writers Dish About Food,Eating, Weight, and Body ImageEdited by Harriet BrownBallantine Books, 2009, $15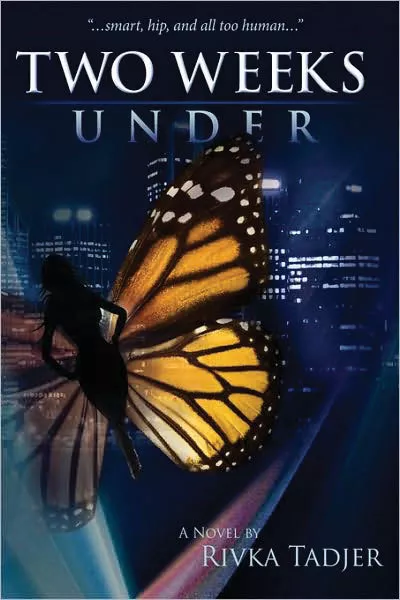 Two Weeks UnderRivka TadjerAuthor House, 2008, $14.99