Pick up the latest issue of literary bellwethers Poetry or Fence and you might think that language poets, intent on diminishing both lyric subject and personal narrative in favor of flat-prose register and imagistic non sequitur, have triumphed. But two new collections of verse prove otherwise.
Body of Water, Orange County poet Janet Hamill's fifth book, celebrates melodic expression in the lyric tradition, investigating subjects elemental and divine. Introducing the volume, the title poem opens and closes with the lines "Standing by a body of water. Moving / or standing still. In the dark green depths / my soul finds its own level." Equally evocative stanzas repeat in offerings such as "Flying Nowhere" and "Moon Music." Elsewhere Hamill recalls Pablo Neruda with lines like "the heart of a mandolin hums in the hand" ("Nine Card Spread"), or in epiphanies derived from surreal ambiguities, such as "in the asylum of a blue sound" ("Sea Fever"). Sparse use of punctuation and atypical line spacing oscillate throughout, creating metrical unity. Readers may long to carry away from nearly every poem such mantra-like lines as "The breath exhales / trailed by a string of the brightest lanterns" ("The Green Harmonica").
An oracular power flows through Body of Water, melding the ordinary with the planetary (horses frequently gallop across starlit skies), mythology with folklore. Divining objects, such as votives and fortunetelling cards, meet ritual gestures, from skywriting to sacrifice. Readers are greeted by St. George and St. Julian, the Virgin Mother and the Magi, and, in convincing persona poems, by filmmaker Federico Fellini and artist Georgia O'Keeffe. Rounding out the collection are deft portraits of lovers, such as the Mediterranean romance "Open Window," that celebrate the flesh of the world.
Heavier and more deeply personal in content, but at the same time stylistically sparser than Body of Water, Rebecca Schumejda's debut volume
Falling Forward
follows in the tradition of confessional poets, though its autobiographical content remains modulated by skillful crafting. A singular, assured persona emerges in the book, a grim interrogation of the vicissitudes of marriage and motherhood. Schumejda, too, employs inventive spacing, as with lines in "Trick Candles" that resemble zigzagging flights of stairs, creating a sense of falling—forward as well as backward. And while her particularly remorseful brand of surrealism tends toward the quotidian as opposed to the ethereal, it succeeds at defining universal truths. For instance, in "Heat Wave," one of several poems contemplating the specter of divorce, she writes that faith "is no more comforting / than the secondhand / walking the perimeter / of our sanity."
Neither religion ("The people in hell want ice water") nor childrearing (the cynical "A Mother's Mantra") will redeem the seemingly doomed figures that populate Falling Forward, especially not mothers who drink, gamble, or otherwise avoid parental duties. Even the cosmos appears to offer scant comfort, given the couple in "Wedding Waltz" who become estranged newlyweds, desiring not to linger in bed but to escape it, tossing and turning all night as "Above, the moon, / a visual eulogy, / mourns the loss of stars / spit down at [them] like tiny seeds" ("Five Ripe Tomatoes"). With her unblinking look at life's most intimate moments, Schumejda is a courageous new poet.
Rebecca Schumejda will read from Falling Forward on March 7 at 6pm at Alternative Books in Kingston. (845) 331-5439.
Janet Hamillwith photographs by Patti SmithBowery Books, November 2008, $16.95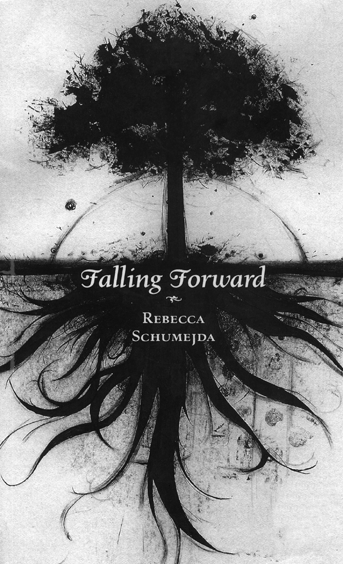 Rebecca Schumejda Sunny Outside, March 2009 $10