Finding questions, we're told, is the beginning of wisdom. Each of these collections poses elusive questions whose answers, embedded in the asking, form the basis of eloquent poems.
Stuart Bartow is a nature poet in the tradition of Jack Gilbert, a transcendentalist a la Emerson, a romantic (think Wordsworth), but his work is playful, whimsical, and surprising, uniquely Bartow. In "Like Donne or Dickinson," he addresses us: "At the instant you're perishing, life flares.… An irresistible magnetic / field has caught your trajectory / where you'll split / to infinity, between egg / and sperm, returning / to the restless stars, where you were drifting all along."
In Reasons to Hate the Sky, Bartow is drawn skyward, where his philosophical, environmental poetry breathes freely. Not the birdwatcher hunting rarities, he joys in the common: The goose ("As I surfaced to their clattering, their vexed / ascent over the stairways of air"), the owl ("Aroused by dusk, mole hunger, they rose / like great moths"), the crow ("a nightmare of black leaves / something afloat in a cold, white sea").
In poems both formal and free, the universe emerges as a living organism, gorgeous, mysterious, and deadly. "The call growing more subtle, / more coy, more dangerous / as it dimmed softer and softer / to the verge where language ends." Tossing a starfish back into the water, the speaker realizes life's fragility. "What love is keeping my life spared?" he asks.
"We knew who we were back then," begins Joan I. Siegel's
Hyacinth for the Soul
—and I found myself sitting beside her on the stoop, "snug" in my "square-toed socks." Siegel, professor emeritus at SUNY/Orange, offers a collection of sensual, compassionate, and highly individual poems. "As though darkness were a hand, / a tactile memory / like playing the piano. You touch lost things." These lost things include childish fears ("black holes that could vacuum us / up like a pair of socks."), joys ("you and your sister… comfortable as animals in each other's smell,") and puzzles ("How the veins / of the lamb on your plate looked / just like the veins in your wrist.")
The details of everyday life filtered through memory become mysterious. Her father, "dark as rain on black umbrellas" in a photo taken before her birth, will later ask his wife, "Who are you?" In these lovely poems, Siegel meditates on her experiences and thus allows us to see ourselves.
William Seaton, the Hudson Valley's own
bricoleur
, turns his hand to whatever falls beneath his gaze. A kind of literary Alexander Calder, forever tinkering with wire and weight, Seaton is captivated by everyday encounters: new-cut grass ("a million decapitations, the luxury of lying in spilt juices"); the "manic flash" of frantic winter flies; comic-strip characters ("What marvelous coiffure my Nancy has?"). He's equally at home in the exotic: "Piledriver sun stamps a goldfoil nimbus about the brows / of shoeless bootblacks" in "Guayamus"; and in "Bush Path," the sheen of fairytale: "He hung the parcel under dripping fronds, / and off a silent hippopotamus / slid and glided on with radiant wake."
Seaton's Spoor of Desire, selected poems from his 40-year writing career, offers a range of material, including formal rhymed verse, found poems, and contemporary myth. His intention, like that of Montaigne four centuries ago, is to offer "my selfe fully and naked," his goal to investigate "In what way is it becoming for one to live?" An important question.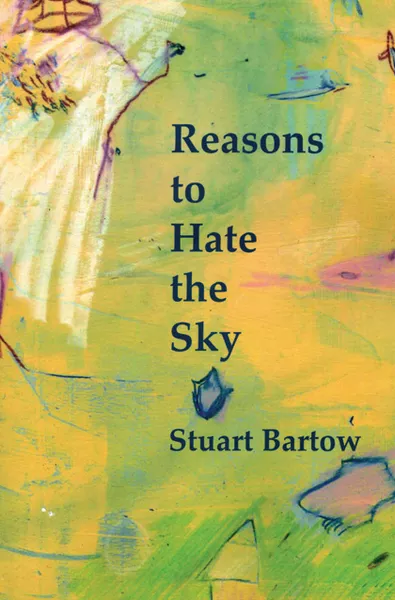 Reasons to Hate the Sky, Stuart Bartow,WordTech Editions, 2008, $18
Hyacinth for the Soul, Joan I. Siegel,Deerbrook Editions 2009, $16.95
Spoor of Desire: Selected Poems, William Seaton, FootHills Publishing 2008, $16