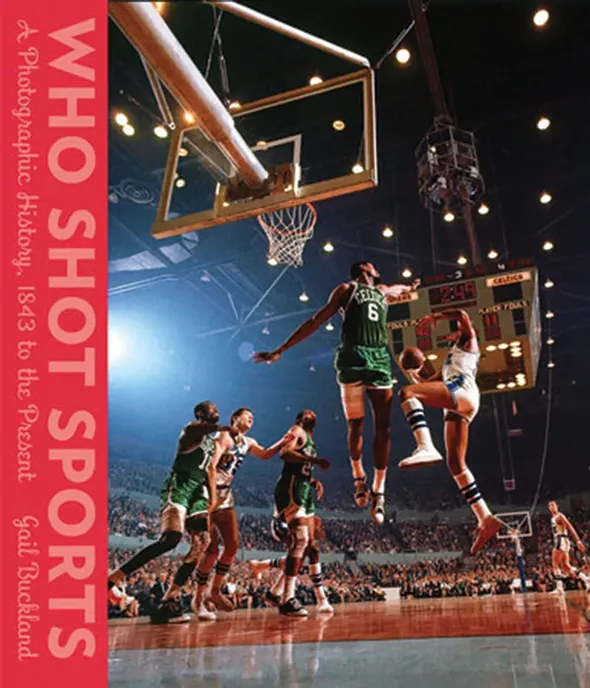 Alfred K. Knopf, 2016, $45
It's a stand-out photograph in a book of stand-out photographs: Michael Jordan soaring to the hoop as his elongated shadow, perpendicular to him, stretches horizontally across the foreground. Prior to reading Gail Buckland's text accompanying this unusual shot, taken by Walter Iooss Jr., Jordan's shadow evoked, for me, a stag painted on the ceiling of Lascaux cave, the raised arm with its articulated shadowy fingers conjuring up the image of an antler. Turns out that impression hews closely to what Buckland sees in the picture: "We have an equal sense that Jordan and his shadow have been painted on a ceiling—a Sistine Chapel for the saints of sports."
Buckland's Who Shot Sports: A Photographic History, 1843 to the Present is not merely a collection of "decisive moments" or iconic portraits of great or lesser athletes, although these are amply represented. More significantly, it is a book that treats in exhaustive but always exhilarating detail the story of the photographers who made these singular pictures—their challenges, their strategies, their back stories, and the striving for excellence that made them every bit as competitive as the athletes they chronicled, bringing their "A" games to every assignment.
Take that photo of Jordan, suspended between heaven and earth. We learn that Iooss consistently aims for the picture "that once seen would not be forgotten." Loath to take a conventional shot of Jordan in mid-air, he stationed himself in a cherry picker above a parking lot painted blue, with a carefully placed NBA regulation hoop; the resulting shot has a perspective unlike any other. Iooss Jr.'s fertile and idiosyncratic imagination, and the great care he lavishes on each picture, have turned many of his subjects into fans—including Jordan, who said he was aware, during his sessions with this photographer, that he "wasn't the only professional in the room."
The medium's finest practitioners are assembled here, from Cartier-Bresson to Robert Capa to Martin Munkacsi (whose work as a sports photographer later revolutionized fashion photography, when he started putting models in motion), all the way to Annie Leibovitz and Neil Leifer, a lifer with Sports Illustrated. And while several shots that have been seen by almost everyone on the planet are included—such as Leifer's portrait of the late Muhammad Ali, taunting a prone Sonny Liston at his feet—Buckland's choice of pictures is full of delightful surprises, lesser-known gems that capture quiet moments as well as glorious ones, and photographs that seem almost painterly or musical in their compositions.
My favorite in a book of favorites is a study of five figures in a play at the plate, taken during a 2006 game between the Milwaukee Brewers and San Francisco Giants. Shooting from a catwalk in the stadium, John Biever has transformed this random disposition of players—one kneeling, two sprawling on the ground, two standing and gesturing—into something that appears to be deliberately arranged. It has the balanced, buoyant quality of the five capering figures in Matisse's Dance.
Buckland, who lives in Warwick, has written or co-written 12 books on photographic history, including Who Shot Rock and Roll (favorably reviewed in these pages in 2009). She is also the curator of the exhibition "Who Shot Sports," currently on view at the Brooklyn Museum and recently reviewed in The New Yorker by Peter Schjeldahl, who called it "an immersive, often dazzling survey."