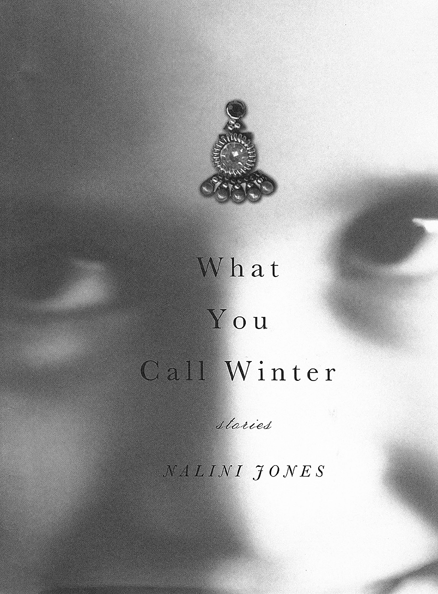 Knopf, $22.95, 2007
Nalini Jones's debut collection suggests James Joyce's The Dubliners. All of Joyce's choice themes are here: lost innocence, alienation, dislocation, and a struggle with Catholic identity. The first story even echoes "Araby," as 10-year-old Marian discovers and loses a gift intended for her birthday, and has her naiveté replaced with something harder-edged. This is not Ireland, though, but India, another former British colony—specifically, Catholic India, a community founded in the 15th century by Portuguese missionaries. Each of the nine stories in What You Call Winter concerns the Almeidas, an affluent family in the fictional town of Santa Clara, where the streets are all named after saints. The enclave—which houses Essie and Francis Almeida, their children Marian, Simon, and Jude, and an assortment of uncles, aunts, cousins, and servants—lies within India, but is also apart from it. In stories spanning three decades, we see the family struggle to maintain its identity in an increasingly westernized and developing country. Even more urgent is the effort needed to preserve family ties, as children go to the United States to attend college and become "non-resident Indians." Most of Jones's stories involve common domestic dilemmas that have reached heart-rending levels of complexity and intensity. In "Half the Story," Marian, now in America, watches her best friend deteriorate as the result of a particularly vicious divorce, while in "The Bold and the Beautiful" two sisters, one living in Santa Clara, the other traveling back from America, strive to tend their ailing mother. In all the stories the characters attempt reconnections. Some try to reestablish their family ties, even after moving abroad. Others must reconcile the past with the present, an often tortured, even impossible process.
For the most part, we seem to be watching the Almeidas dissolve before our eyes, despite how much energy they expend to keep it from happening. Family homes are sold and torn down, replaced by apartment buildings. Entire neighborhoods are no longer recognizable, as a former Almeida neighbor, now also an expatriate, recognizes in "Home for a Short Time." People have become scattered, or shattered, as is the case with Simon in "We Think of You Every Day," whose years in a seminary preparatory school have scarred him in unspeakable ways. Others seem stuck, like Roddy in the title story, whose wife wants to sell their home to a developer, and who's convinced he has been seeing his long-dead father on the street. The vision intimates Roddy's own mortality, and he, like others who remain behind, finds himself under assault from larger forces of Indian culture. In "This Is Your Home Also," the aging Almeidas are regularly bombarded by stray soccer balls from the Hindi schoolyard next door, their enclave of Indian Catholicism under assault by the majority culture.
Like Joyce, Jones revels in close renditions of the third-person-limited point of view. She is at her best when using the guileless perspectives of children, and allowing larger, more serious stories to be glimpsed through them. What emerges is a portrait of a family, and a culture, undergoing severe fragmentation, as well as a compelling and engrossing collection of stories.

Nalini Jones will read from her work at The College of Saint Rose on November 8, as part of the "Frequency North" writers series. For more information, (800) 637-8556; www.FrequencyNorth.com.