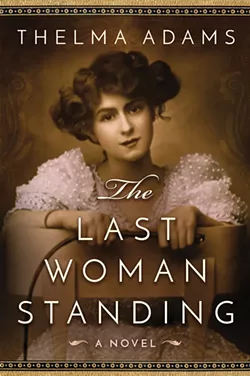 Josephine Marcus, the beautiful, common-law wife of Wild West icon Wyatt Earp, is one of the more intriguing figures of the post-Civil War era. The daughter of Prussian Jewish immigrants, she met Earp when he was 32 and she was 19, and remained at his side until his death at 81. Yet much of her actual life is the source of contention and mystery. Who was this woman of chutzpah? Weaving fact and fiction, Hyde Park novelist-journalist Thelma Adams entertains that question in her engrossing historical novel, The Last Woman Standing. In an anachronistically sassy voice, her version of Josephine—a presence both mischievous and charming—narrates the years 1880 to 1882, including the notorious 1881 Gunfight at the O.K. Corral.
To craft her version of the beginning of Josephine's story, Adams conjures delicious details of Josephine's departure from her family, casting her as the female personification of the American Dream, with Eastern European Jewish flair. The scenes in the shabby San Francisco apartment are wrenching. Josephine's family sits shiva, as if she were dead. Nevertheless, Josephine's feet tap excitedly beneath the dinner table. It's a vivid tableau, in which the Old World (in the form of Josephine's harsh, overbearing mother) tries to quiet the heart of a woman hell-bent on a distinctive, meaningful life, unconcerned with societal pressure to marry, settle down, and make babies. (The historical Josephine Marcus would never do any of those things.)
A renowned film journalist, Adams is generous with cinematic flourishes: taffeta sleeves, foghorns baying in the distance, an ecru lace scarf "like a hankie dropped from God," and a boisterous shiksa named Kitty, sent to squire Josephine to Arizona. Kitty admires Josephine's beauty, but notes she'd need a gardener to trim her eyebrows. An epic journey from San Francisco to Tombstone ensues.
Josephine is bound for Tombstone due to a marriage proposal from Southern Democrat Johnny Behan, a lawman and sometime bartender. She met him the first time she ran away, with a theatrical troupe. A dedicated researcher, Adams includes the party alliances that were shaping the region and fueling squabbles. Lawman and gambler Wyatt Earp, who moves quickly from fringe character to center stage, is a Lincoln Republican, and Behan's rival in more ways than one. Adams also cannily re-creates the economy of the time—what kind of money folks earned for whatever work they did—which helps to clarify the stakes.
Adams deftly paints the raucous atmosphere of Tombstone as seen through Josephine's eyes, conveying her protagonist's fascination and fear in the face of depravity and casual violence. Josephine's naïveté does not last long. The charismatic Behan meets her at the station, and soon deflowers her in a very steamy sex scene, but their wedding never happens; Behan will ultimately be as unfaithful as he is politically ambitious. But these are all blessings in disguise, paving the way for Earp.
Tall, broad-shouldered, and as devastatingly attractive as his dime novel portrayals, Wyatt Earp radiates mystique and fearlessness. But with Josephine, he is vulnerable. Still reeling from her bust-up with Behan, Josephine falls hard for him, especially as he repeatedly outwits death. The infatuation is mutual, and they soon shack up, launching one of the more remarkable and enduring Wild West love stories. Wyatt Earp dodged many a bullet, but The Last Woman Standing is a fanciful, deeply entertaining account of how Josephine Marcus got him right in the heart.