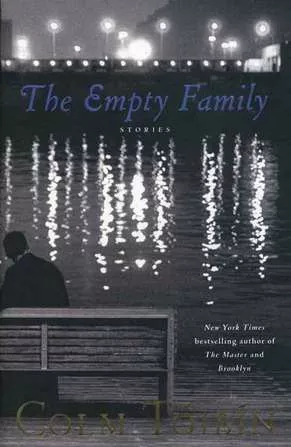 The Empty Family: Stories, Colm Tóibín, Scribner, 2011, $24.
"Listening took more work than talking." So observes Lady Gregory in "Silence," the first story of
The Empty Family
, by award-winning Irish writer Colm Tóibín. Throughout this quiet but affecting collection, readers may have the sense that they, like Lady Gregory, are being called upon to do the hard work of listening and, perhaps more significantly, that Tóibín, although the author of these stories, is doing very little talking. Rather, he has taken on the much more difficult task of hearing and granting autonomy to the wide range of voices belonging to the collection's protagonists. These include an Irish set designer for famous films, an exiled Communist living in post-Franco Spain, and the aforementioned Lady Gregory, who plants disguised stories from her own life into Henry James's head (a nod, perhaps, to Tóibín's 2004 novel
The Master
, a fictional account of James' life, which won the Dublin IMPAC award and was shortlisted for the Booker Prize).
While the eclectic range of characters might make for a choppy and uneven collection in other hands, Tóibín's careful attention to the themes and motifs shared by all nine stories—exile and return, wanderlust and a desire for home—allow him to take advantage of one of the best qualities the short story collection has to offer: the drawn-out exploration of key ideas through a number of mediating lenses and voices. His exploration not only reveals a multitude of perspectives, but also creates a sense of rhythm to the collection's prose that one might more readily expect to find in poetry.
Because of this rhythm, when we move from a story like "Barcelona, 1975," whose Irish narrator recounts sexual liberation as the "old dictator" begins to lose his health, to "The Colour of Shadows," which concerns the fading health of the protagonist's aunt, to "The Street," a love story between two male Pakistani emigrants in Barcelona, the vast differences between the pieces' plots and settings matter less than the resonances we hear between characters cut off from their roots and confronting a sense of emptiness. In the eponymous "The Empty Family," the narrator returns to an empty house in Ireland after many years, and, in his desire to "forget about words," becomes fascinated with using a telescope to watch the ocean, "a piece of the world indifferent to the fact that there is language." In "One Minus One," the Irish narrator living in Texas recalls his mother's death six years earlier and says of his story, "This should be nothing, because it resembled nothing, just as one minus one resembles zero. It should be barely worth recounting to you."
Yet Tóibín's narrators feel compelled to recount, to use words that connect to a listener. Although these words are usually not flashy or "loud," they draw us deep into the text. After engaging, as Lady Gregory does, in the difficult work of listening hard, we begin to notice undercurrents binding the stories to each other, not only through rhythmic links in narrative theme, but through Tóibín's spare and precise prose, which leaves the reader hearing a sound that only seems to resemble silence. In fact, these commanding stories have much to say, not only about the itinerant, but about language's power to make us listen harder to the quiet importance of other lives.
Colm Tóibín will present "Stories from an Irish Master" at the Woodstock Writers Festival, Sunday, April 10 at 8pm, Kleinert/James Art Center, Woodstock, $25; www.woodstockwritersfest.com.