Good thrillers transcend genre, bringing suspense and gore into the service of larger truths. And why not? What's a larger truth than human misbehavior and untimely death? If you love nothing better than creatively wrought suspense, get your hands on these latest offerings from Ulster County masters Steve Hamilton and Marshall Karp, and prepare to be joyfully stunned.
Hamilton debuts a fascinating new character and series with The Second Life of Nick Mason. Nick is a hardscrabble Chicago guy who took a fall on one last ill-advised outing in the underworld and was sentenced to over two decades in prison. Then the unbelievable happens: Semi-mysterious forces grease the wheels of justice and he's released after only five, his every material need provided.
But there's a catch: The price of walking free is carrying a cell phone at all times and being at the unquestioning beck and call of the man who singled him out in prison and appointed him a samurai. The moral costs and practical difficulties are huge, and at times leave Nick wishing he'd stayed in his cell. That wish is counterbalanced by the chance, albeit fraught and slim, of a relationship with his daughter.
As the phone rings and the adventure deepens, trying to stay alive and keep the people he cares about safe will take every bit of ninja skill Nick can muster. His efforts to make a life are knocked about like bowling pins by twist after twist. He's been conscripted into a war that's about 19 levels above his youthful criminal pay grade, and the detente between lawbreakers and law enforcers that pacifies Chicago's underbelly is going up in flames. He's grappling with fallout from the past, trying to figure out the narrow path to a viable future, all the while on the radar of a tough, angry cop. Nick is good company on a wild ride, and the series is off to a breakneck start.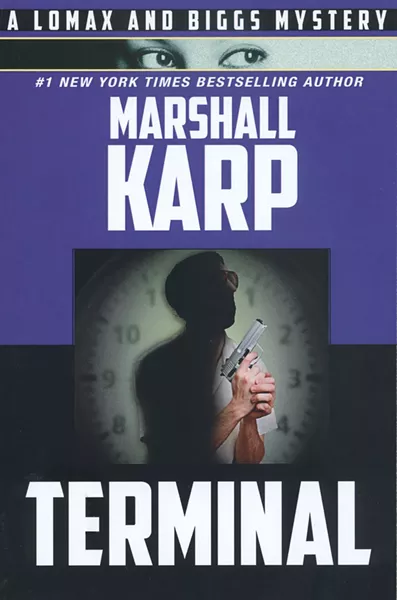 Karp's latest is something his fans have longed for. After several books co-authored with his bestselling buddy James Patterson, he revisits his Hollywood detective team Lomax and Biggs in a self-published outing that's destined for great success. His loyal fans enjoyed the Patterson books, especially as Karp's voice began to shine through, but Lomax and Biggs are simply beyond compare. After a six-year hiatus, they're back in top form.
Mike Lomax is at the doctor's, dressed for a prostate exam, when a murder-suicide explodes at the medical facility. Like the best sort of cop, he runs toward the trouble, gown flapping. It's a high-profile murder with political ramifications and a nonsensical fact pattern, which launches Mike (now fully clad) and his partner in detecting and wisecracks, Terry Biggs, onto a voyage of discovery. Somebody has begun hiring terminally ill patients as hitmen, but who? Why?
Throughout the case, Lomax deals with massive uncertainties in his own life. There are iffy results from his bloodwork and the specter of separation from the "loaner kid" he and his wife, Diana, are in love with. As the plot thickens, the layers of moral ambiguity and emotional resonance keep thickening with it—and Karp keeps us laughing even as we weep for this crazy, complicated world.
Terminal is an Amazon exclusive; you can find The Second Life of Nick Mason online or in your favorite local bookstore. Both belong in your beach bag or on your nightstand, stat.