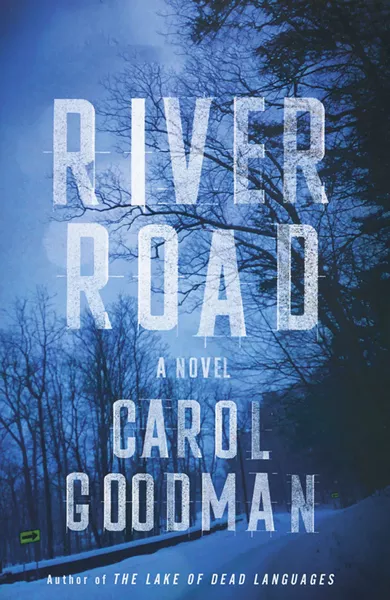 English professor Nan Lewis—she shudders at "Nancy"—is driving home from a holiday party that turned from pleasant to horrific in moments. Learning that she'd been denied tenure would have been bad enough; having a public confrontation about it with her ex-lover, the head of the department, put the icing on the cake. Then a deer jumps in front of her car on treacherous River Road.
These setbacks are only the beginning for Nan. Her universe is already tenuous: She's been white-knuckle plowing through life since losing her tiny daughter to a drunk driver several years earlier. The morning after the party, she learns that her favorite student has been killed in a hit-and-run at the same dangerous spot—and in one of those brutal ironies that only the naive have never witnessed, Nan is suspected of the crime.
Carol Goodman's heroines tend to be brilliant, good-hearted women struggling under heavy weights, whether she's chronicling the perils of magical species (writing as "Juliet Dark") or teen heroics in her award-winning Blythewood boarding school tales. With River Road, Goodman returns to decidedly adult writing and realism without skipping a beat, giving us a lyrical, suspenseful adventure that twists and turns through the darker corners of the soul, much as River Road twists through the frozen landscape of a deliciously recognizable Hudson Valley college town.
Who killed Leia Dawson, and was it a tragic accident or an act of malice? Though Nan briefly doubts her own memory—could she possibly have mistaken a white wool scarf for a deer's belly fur?—forensics soon clear her name. But Nan remains haunted. On the day her daughter was hit, she had taken her eyes off the preschooler at precisely the wrong moment; on the last day of Leia's life, she'd been too busy when the girl wanted to talk. These twin burdens draw Nan deeper into the mystery, and she finds herself enmeshed in a messy web with strands leading from the campus to the ghetto, from the lofty heights of Faculty Tower to the crumbling historic boathouse beside the icy Hudson.
The psychographics of a Hudson Valley college town are spot on, rich and real. There's the golden girl, struck down in her prime, whose facade of innocence will be stripped away before the puzzle's half solved; the blue-collar stoner kid who's part villain and part victim; the crabby professor who's published a memoir about her Struggle; the semiliterate brat who uses everyone's pain as a step stool to a gig at Gawker; the shady townie parasite; and the tough, loving single mom. An Oxycontin-fueled heroin problem is only one of many social issues in play in the equally vivid backdrop.
As she puzzles out Leia's fate, Nan's brash courage and warmth lead her to wrestle her own demons with both hands. Her full-hearted nature also lures her into a romance with a loveable young cop and into mortal danger from more than one direction. Goodman pushes the needle over into the red zone and keeps it there through page after page of suspense, until it bursts open like a firework in a redemptive conclusion. Longtime Goodman fans, here's our red meat; newcomers, prepare to become longtime fans.
Appearing 1/19 at 6pm, Oblong Books & Music, Rhinebeck; 1/22 at 7pm, Inquiring Minds, New Paltz.