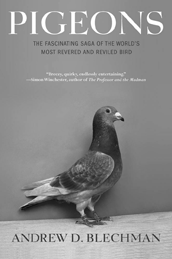 Grove Press, 256 pages, 2007, $14.
In this curiously compelling volume, Berkshire author Andrew D. Blechman manages to pull off a kind of avian alchemy. Through strong reporting skills, a keen eye for quirky details and a breezy writing style, Blechman transforms the loathsome urban scavengers known as "rats with wings" into majestic and storied creatures more properly called by their formal name, rock doves.
In researching and writing his paean to pigeons, the former reporter for the Los Angeles Times and Des Moines Register—who now lives in Great Barrington, Massachusetts—takes a narrative tack that becomes a story-within-a-story. Blechman invites readers along for a loopy journey that includes weird and occasionally creepy visits with pigeon-obsessed fanciers across the US and Europe. Among his more unusual forays, Blechman lays out his convoluted efforts to score an interview with elusive boxer and noted pigeon racer Mike Tyson. He tags along with Queen Elizabeth's Royal Pigeon Handler in England. He attends a controversial live pigeon shoot in southeastern Pennsylvania and struggles with the impulse to blast away with a shotgun at his beloved rock doves in the service of immersion journalism.
Blechman needs a little psyching up to take on his subject initially. "For much of my life, I didn't have a strong opinion about pigeons," he writes in the book's introduction. "At best, I found their incessant bobbing and waddling mildly charming to watch as I walked through the streets of New York City." Newly arrived in Manhattan, Blechman's first encounter with pigeons was when one crapped on his head, staining the suit he was wearing to a job interview at Rockefeller Center. Despite that traumatic beginning, the author soon warmed to the cooing, clustering birds, and dives into "the pigeon universe and its shaggy patchwork of obsessive subcultures," as he calls it.
He writes: "No animal, I discovered, has developed as unique and continuous a relationship with humans as the common pigeon. Nor is there any animal that possesses such an unusual array of innate abilities seemingly designed for our utilization."
He marvels at the extraordinary speed and endurance of racing pigeons, which can fly more than 500 miles without rest at speeds topping 60 mph. He notes that hundreds of thousands of homing pigeons served in the two World Wars and were credited with delivering messages that saved scores of soldiers' lives. Blechman examines the pigeon's place of reverence in ancient times, when they were worshiped as fertility goddesses.
Yet Blechman faces two major hurdles as a writer in Pigeons. First, he has to make readers care about a bird they'd often rather see impaled on the spike strips installed atop urban buildings to keep the birds from fouling historic facades. Second, he has to meld a humongous Google search of pigeon trivia and a group of unrelated sketches of pigeon owners into a single narrative with drama and a story arc. Blechman succeeds better on the first score than the second. Aside from its occasionally disjointed quality, Pigeons, now newly released in paperback, manages to take wing and will soften even the most hardened rock dove hater.