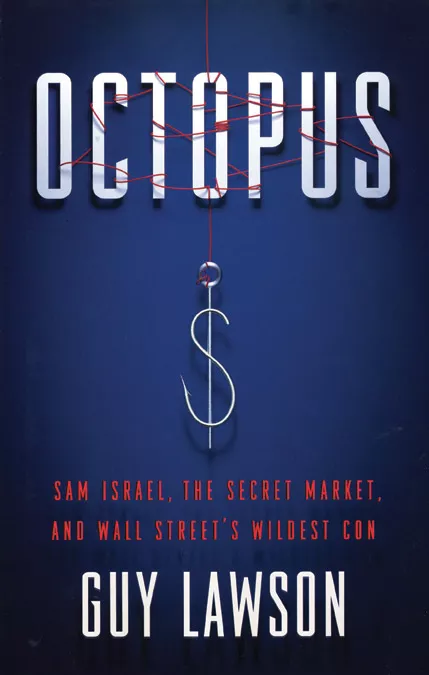 Octopus: Sam Israel, the Secret Market, and Wall Street's Wildest Con, Guy Lawson, Crown, 2012, $26.
From
The Manchurian Candidate
to
The Matrix
to
Men in Black
, folks love a story in which a secret network, known only to the privileged few, controls the unwitting masses. Guy Lawson's
Octopus
fits neatly into that category, except it is nonfiction; it is, in fact, stranger than fiction, alternately fascinating, funny, and terrifying.
This Hollywood-worthy yarn tracks trader and hedge fund manager Sam Israel's odyssey from the upper echelons of Wall Street to the inner circles of shady CIA operatives and jaundiced European nobles, to a faked suicide and, finally, federal prison. Like the saga of Bernie Madoff, Israel's hedge fund Bayou fails, but he can't admit defeat, so he continues to court cash, transforming Bayou into a Ponzi scheme; investors, charmed by Israel, fork over millions, while he falsifies documents detailing the fund's returns. "Regulators" prove incompetent at best. Unlike Madoff, however, Israel jumps through all manner of flaming hoops in an effort to redeem Bayou; a combination of bravado, ego, and an endearing, childlike capacity to be dazzled by storytelling sends Israel on an epic journey in which a master con man meets his match.
Octopus
gives flesh and blood to the Mark Twain quip, "A lie will go halfway around the world while the truth is just putting on its shoes."
As Israel traverses the globe in a delusional fever, he falls under the spell of some intriguing spooks. Artists of deceit—still at large, some brazenly—usher him into a dangerous, amoral alternate universe in which the Federal Reserve operates a "shadow market." An elite cabal of thirteen families runs the world, using the shadow market to spin billions from millions. This cabal is the Octopus, and Israel's creepy pals promise him access. Although a duped Israel loses millions, he insists, from a jail cell in which his head is clear, that the Octopus is real. (Frankly, certain lax behaviors by the "authorities" will leave you wondering.)
Dutchess County journalist Lawson's contagious affection for Israel, who he interviewed over three years, is the secret ingredient of
Octopus
. Israel cheats, rages, abuses his loved ones, and mismanages an unquiet mind and chronic pain with pharmaceuticals, cocaine, and booze, yet we identify with his struggles and, amazingly, root for him. We also delight in a little schadenfreude when he gets his comeuppance. Through it all, Lawson's pen renders Israel and his roguish cohorts with aching humanity, eliciting our sympathy. For instance: Israel, born in 1959, is the scion of a famed trading family, yet he insists on working his way up through the Wall Street ranks, apprenticing with ticker-tape lions of the industry; he loves rock 'n' roll, and befriends and even jams with the Allman Brothers in his mansion; he's financially savvy, offering spot-on predictions of the global recession (and worse) long before it hit; he's a devoted dad. You gotta love the guy.
In addition to the lively character study,
Octopus
serves double-duty as a primer for anyone with a desire to grasp the hubris-thick web of deceit that is the global financial system. But the heart of the book, the spoonful of sugar that makes a lot of bitter, complex truth go down, is Israel's psychology, his Walter Mitty-meets-Indiana Jones worldview. (Interestingly, mood disorders and depression are quite common on Wall Street.) Somewhere in Hollywood, a producer is pondering which edgy young buck to cast as Sam Israel in the big-budget thriller: "It's Bourne Identity meets Wall Street!" Except it's real.