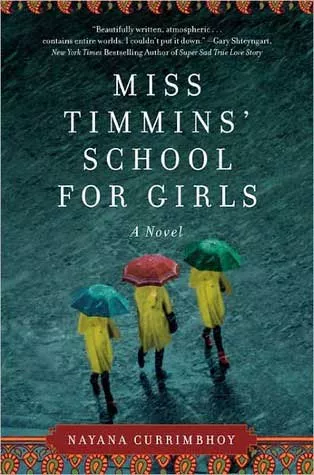 Miss Timmins' School For Girls 

Nayana Currimbhoy

Harper, 2011, $14.99
Charu is a loved and sheltered 20-year-old, circumspect and shy; her father's professional ruin and her facial birthmark have made her an analytical loner. When she takes a position at a girls' school in Panchgani, her Brahmin parents believe she'll be safe and sound, tucked away from the drugs, sex, and rock `n' roll that pervade Indian youth culture in the 1970s. It never occurs to them that she'll end up a murder suspect.
For her part, Charu is afraid Miss Timmins' School will be a continuation of her childhood and adolescence as a wallflower. The reader can feel the weight of caste and tradition weighing on her shoulders, relentless as the monsoon rains. But even in this backwater, there's a small hippie contingent, and Charu falls in love with freedom, rock music, THC, and two people at once. Most especially, she's drawn to her charismatic and controversial colleague Moira Prince.
The two begin an intense affair, which confuses Charu no end. She knew her marriage prospects were nil due to the birthmark but hadn't expected to find herself experiencing ecstatic lovemaking with another woman. Her desire for Moira conflicts resoundingly with her conventional sense of self.
The many layers of religious and social complexity that mingle in Indian culture are more than a backdrop for these characters—they're the very air they breathe. Separating from one's parents and sorting out a new job would be plenty to deal with, never mind finding yourself unexpectedly in love, but Charu's rolling with it, teaching Shakespeare with flair and loving her wild evenings out, finding her way through her own complex family issues.
The repressed mess that is Miss Timmins' School comes to a head one monsoon night. Charu, her lover, their principal, and three of the brightest girls in the school are all out past curfew. One of them doesn't come back alive.
Currimbhoy then turns the narration over to Nandita, Charu's favorite student and a charter member of the Rule Breakers Club of 1974, fervently dedicated to selective disobedience: "It was decided to term all housekeeping rules...as too trivial to break, and the 'sin' rules involving contact with the members of the opposite sex—which could get us thrown out—as too grave. They would have to be middle-ground rules. But the breaking of these rules would have to contain acts of courage and daring."
Nandita knows a bit about the murder. So do Charu and the principal. Inspector Wagle is certain that at least one of the aforementioned knows more than she's telling. Everyone claims to want truth and justice, and everyone has an agenda. And though they may be trapped within a system that attempts to monitor the very elastic in their underwear, Nandita and friends are well supplied with courage and daring—as is Charu, somewhat to her own surprise.
Columbia County resident Currimbhoy crafts a lovely spell. One feels a pervasive dampness from weeks of monsoon rain—or is it the weight of centuries of an incredibly complex culture? Charu's discovery of herself as a strong, brave, and talented young woman is a joy to share; the collisions between teachers and teens, between Brahmins and hippies, between Christians and Hindus are great fun. Most of all, the compelling mystery of a young woman's death is well framed within the larger mysteries of another young woman's life, an era, and a culture. The novel resonates, sticking with you like a nutritious meal.