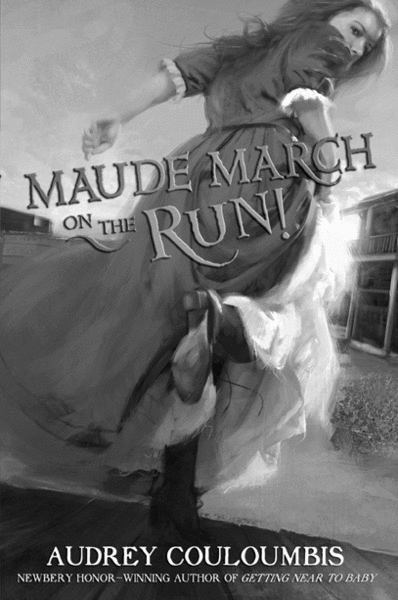 It's 1870 in Independence, Missouri, and two orphaned sisters are hitting the outlaw trail. It seems there's been a little misunderstanding with the law concerning a bit of bank robbery, some minor horse thieving, and a touch of murder. Despite the fact that it was actually 12-year-old Sallie who killed a man (she was 11 at the time, and it was an accident), and they sent the bank money back, 16-year-old Maude has been blamed for everything, and branded Mad Maude March, Notorious Outlaw. In this sequel to her acclaimed
The Misadventures of Maude March
, part-time South Fallsburg resident Couloumbis keeps the dust churning, the bullets zipping, and the wry wit flying. Her narrator is Sallie, a rough-and-ready girl who prefers to pass as a boy and has a Colt .45 where her mouth should be. Outlaw Maude is the more genteel sibling, a kind-hearted teen with a gift for sharpshooting that rivals her talent for being in the wrong place at the wrong time. It bothers Sallie that people paint her sister as a desperado. "They think she must enter every door with teeth bared, guns drawn, and coattails flapping in an unnatural gust of wind," she says scornfully. In truth, Maude wants nothing more than some kind of normal life. She insists on working as a waitress, disguising herself mainly by trying to look more pleasant than the scowling harridan on her wanted posters. The job doesn't last long. At the start of the book, Maude's recognized by a patron and thrown in jail. It was bad press and bad luck that did her in, but it's Sallie and trusted friend Marion Hardly (a man with his own unconventional outlaw persona) who bust her out. They follow a westward path toward their only relative, an uncle who's gone to bail out a friend in the Colorado Territory. Along the way they encounter a snake-oil salesman with a heart of gold, a writer who wants to pen their Real True Story (especially thrilling for Sallie, an enthusiastic fan of sensational novels called "dimers"), a wagon train of man-seeking women, and not one but two fake Mad Maudes—apparently, pretending to be a crazy female outlaw is frontier cool. They ride and shoot their way west, weathering drought, an angry mob, and two more jailbreaks. The stakes climb higher with every mile, and despite herself, Maude must act in ways that further her legend. Writing serial books offers a writer the option to make the characters merry-go-round ponies or set them free to gallop. Couloumbis, who won the Newbery Honor in 2000 for her first young adult novel,
Getting Near to Baby
, has chosen to cut these horses loose. Reading the previous Maude isn't necessary to enjoy this book on its own rip-snorting merits, but it's essential in order to note the subtle ways the characters grow and change. Maude moves toward mature acceptance of her fate, and Sallie, though still saucy, gains a sober-eyed perspective on life—and dimers. "I didn't anymore read them as the innocent I once was. I could see through the adventure of them, oftentimes, to the wearing part. I knew the sick feeling that came with the danger. When everything came right in the end, I took particular satisfaction in it." It's the arc of a real human being, not a dime novel character. Couloumbis allows these girls to step outside the bounds of their own sensational myth and evolve in ways to which the book's targeted 8- to-14-year-old audience (and readers of every age) can relate. Sallie would find "particular satisfaction" with this book's finish. It's a perfect conclusion to a journey spent in the fine company of a pair of heroines well capable of cooking their own bacon, and saving it, too. But it may not be the end of the story—readers can hope these gals will hammer this trail yet again.