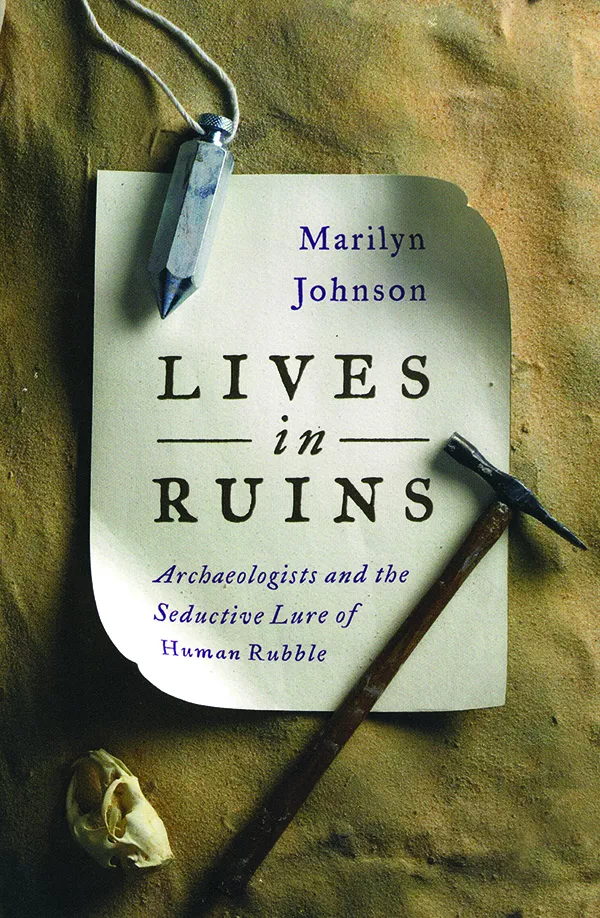 Archaeologists are obsessive, stubborn, frequently unkempt, opinionated, and usually poor. Nevertheless, Marilyn Johnson will make you want to be one, or maybe marry one. Her enormously entertaining Lives in Ruins: Archaeologists and the Seductive Lure of Human Rubble gets up close and personal with those who spend weeks, months, even years, in graves, ancient garbage, infested jungles, brutal deserts, capricious seas, and other inhospitable situations, all in the name of connecting the dots of human history (much further apart than you think, those dots). Such situations sound harsh (they are) and one might think our intrepid explorers crazy (they kind of are), but Johnson's style, both witty and informative, renders her subjects charming, and their exploits fascinating. Even when she delivers the bad news that Indiana Jones-style glory is a fantasy, and a living wage unlikely, you'll still want to sign up for a dig. She did.
The Westchester author previously immersed herself in the travails of obituary writers (The Dead Beat) and librarians (This Book Is Overdue!), revealing both professions as compelling indeed. Similarly, with Lives in Ruins, she is game for anything, contagiously enthused, and adept at playing up the cool aspects of a job. She doesn't just sit down with archaeologists, nor does she "tag along" on digs. Johnson trains, studies, gets filthy and sore, helps butcher a lamb with handmade stone tools (to better understand primitive man), and cozies up to the people who can't rest with the knowledge that something is there.
In the field, we meet mercurial SUNY Stony Brook professor John Shea, teaching students to track animals, craft tools, and dress a carcass (after schooling Johnson at butchery, he says, "Now you're a human being"); hunky Grant Gilmore, deducing volumes of data from Caribbean pottery shards; octogenarian Sarah Milledge Nelson, multilinguist pioneer of digs in Korea; Mike and Rose Fosha, fighting to preserve the last remnants of Chinese immigrant culture in Deadwood, South Dakota; sexagenarian marine archaeologist and former cleaning lady Kathy Abbass, determined to find Captain James Cook's 18th-century ship Endeavour in the waters off Rhode Island; charismatic Joan Breton Connelly, excavating what she believes is a temple to Cleopatra in Greece; contractor Bill Sandy, discoverer of Revolutionary War graves on the proposed site of a strip mall in Fishkill; brave forensic specialist Erin Coward, sifting the blighted dirt in the remains of the World Trade Center.
The memorable personalities and exotic locales are great fun (except, of course, the WTC), but Johnson doesn't shy away from the tough stuff, although she wisely waits until midway through the book to do so. Aside from the aforementioned lifestyle issues and real danger (mostly from bugs), archaeologists are in a constant race with a wily nemesis: the looter. The multi-billion-dollar antiquities black market thrives on looters, and those who would pay astronomical sums to illegally display a priceless piece in their home rather than allow it to be studied. Boo. Hiss.
But mostly, Lives in Ruins pulses with people who love, love, love what they do, and will forsake security and comfort to do it. "It's not romantic love, bathed in hopeful illusions," Johnson writes of her archaeologists, "but something fiercer, that costs dearly." Indeed, but the cost they accept, the years of their lives spent searching, offers the chance to shine light on buried pages of the human story, and we need all the light we can get.
Appearing 11/9 at 2pm, White Plains Public Library; 11/15 at 4pm, Village Bookstore, Pleasantville; 1/24/15 at 4pm, Oblong Books & Music, Rhinebeck.