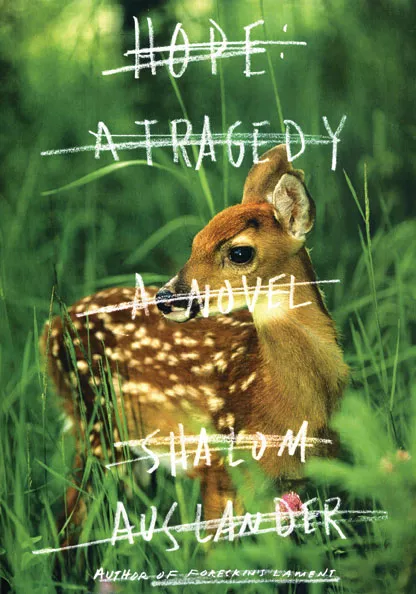 Hope: A TragedyShalom AuslanderRiverhead Books, 2011, $26.95
According to the Irish poet and philosopher John O'Donohue, "Negativity is a precious force. No movement of consciousness goes forward on its journey without the motor of the negative driving it." In his debut as a novelist, Shalom Auslander—who is not Irish, but probably would be if he wasn't Jewish, because the Celts are the only people I can think of who are as flat-out funny in their deep-rooted pessimism as the Jews—revs up the motor of the negative to warp speed and runs the positive off the road, over a cliff, and into a fiery death.
So,
nu
? This should come as no surprise to readers who have followed Auslander—who escaped a strict religious upbringing in Monsey to wind up, oddly, in Woodstock—through his short stories (collected as
Beware of God
) and his memoir,
Foreskin's Lament
. The latter has earned him a reputation, among certain orthodox and secular folks whose trait in common is the lack of a gene for humor, as the Babe Ruth of self-hating Jews. (He's not, by the way—he hates God, and hypocrisy, and, for all I know, baseball, but he doesn't hate himself.) Happy to say,
Hope: A Tragedy
will in no way dampen the wrath of Auslander-hating Jews, who will find something to peeve them on practically every page.
Solomon Kugel, Auslander's protagonist, has
shpilkes
in spades. A friendly local arsonist has been targeting renovated farmhouses in Stockton, just like the one Kugel recently moved into with his wife and young son. Moreover, Kugel's mother, who has also moved in with him, and who suffers from pseudo-post-Holocaust stress syndrome (what, you had to actually be there to be a camp survivor?), is dying. To bottom it off, he discovers that Anne Frank—very much alive and feisty, thank you—is living in his attic. (That's not a spoiler—she announces her presence on page 24, and the book runs another 268 pages.) "While there's never a good time to find Anne Frank in your attic, this was a particularly bad time," Kugel reflects. If he calls the cops, he'll "forever be known as the person—the
Jewish
person—that reported Anne Frank to the authorities." The shame alone would be fatal: "He had a better chance of surviving the Holocaust itself."
Lest you think Auslander mocks the Holocaust, you are mistaken: He mocks the highly profitable pop-culture industry the Holocaust has become—that, and its appeal for comfortable, middle-class people who feel guilty for having missed out on it. Along the way, he also offers acerbic observations on reason, hope, and our collective thralldom to the past, including being exhorted to "never forget" terrible events, such as the Shoah and 9/11: "Why not forget? Isn't that what they would have wanted, the terrorists, that we never forget? That's probably what they said to one another when they came up with the whole plan: Holy shit, said one, they are NEVER going to forget this."
For all the absurdity of its premise, the story plays out tragically. By the time we reach the chilling account of how Anne Frank survived the death camps, we're choking on what's left of our laughter. By the end of
Hope: A Tragedy
, I wanted to paraphrase the apocryphal deathbed utterance of John Barrymore: "No, surviving Belsen wasn't hard. Now
comedy
—comedy is hard!"

Shalom Auslander will read 2/18 at 6pm at Oriole 9 in Woodstock. Sponsored by Golden Notebook.