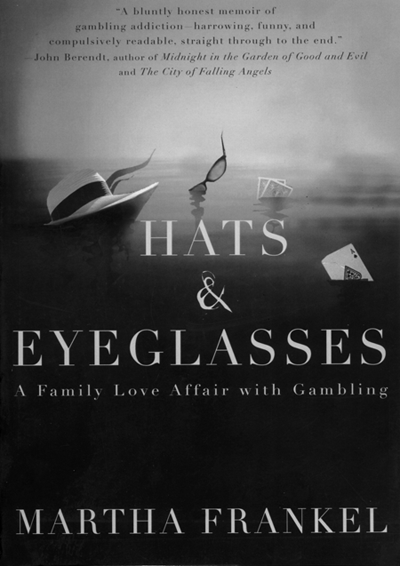 Hats and Eyeglasses: A Family Love Affair With Gambling
Martha Frankel
Tarcher/Penguin, 2008, $23.95
It may have been genetic destiny that brought Martha Frankel to gambling addiction, but it was love for her family that pulled her out of it.
Gambling surrounded her from birth, offered up in a potent cocktail of affection and camaraderie. Every Friday was game night, meaning mah-jongg for her mother's friends, while their husbands played poker in the next room. Presiding over them was "The Pencil," Frankel's father, a genial, adoring CPA. Her mother's game was gossipy, treat-filled, and stocked with child-spoiling "aunties," but it was dull stuff compared to the poker room. The men would show Martha their cards and utter obscure pronouncements like "I've got hats and eyeglasses," meaning their ship was sinking, and these would soon be the only things left floating on the water.
Frankel's father taught her to bet the ponies, count backwards from 99 by sevens, and told her she was smart enough to be an astronaut. When he died, just before she started high school, her world fell apart.
She drifted for a while through college and a bad marriage, then wound up in Woodstock, where she met Steve Heller, a gambling-immune woodcrafter who was the antithesis of everyone she'd grown up with.
Frankel discovered a talent for entertainment journalism, interviewing stars for Details and Cosmopolitan. She started researching a screenplay about poker, joining a local Wednesday night game where she learned the good, the bad, and the down and dirty. Soon, she was holding her own against the all-male group, and then she started beating them. The screenplay was shelved, and she played poker wherever she could find people holding cards, from crowded Atlantic City casinos to hole-in-the-wall LA cardhouses. She was obsessed but not truly addicted. Then she discovered online poker.
You can invent an entirely new identity online; you can play in your pajamas; you can gamble any time of day or night, and you never have to stop. And, as Frankel quickly discovered, you can also lose your shirt. Filled with dreams of hitting it big, she became an acolyte of a site called Paradise Poker, only to find that she'd actually logged into hell. She lost enormous sums, then bet bigger ones in an attempt to make it up. She played while she should have been working, distancing friends, relatives, even her husband, as she scrambled to beat an unbeatable system.
Frankel eventually went to a Gambler's Anonymous meeting, but found thin solace among the down-at-the-heels horse race and sport betting addicts. "I stand up, thank them all, and wish them good luck. A hysterical little screech escapes me—wishing a table full of compulsive gamblers good luck does not seem smart. I practically run to my car. I feel better, superior. And worse, frighteningly inferior."

Hats and Eyeglasses is a sparkling, sharp-witted, insightful book told in colorful, unsparing prose. Frankel's writing is riveting, and trots along at a gum-smacking pace. And, because of her eye for the absurd and gift of perfect phraseology, it also may be the funniest addiction memoir you'll ever read.
It was the unconditional love of Frankel's mother that finally penetrated her dense cloud of self-loathing. Writing this book was a way to tell her friends and family how deeply she'd journeyed into the rabbit hole. And while it would be wrong to wish anything like poker hell on her again, one can't help hoping she's got a few more skeletons to write out of her closet.
Frankel will read at a number of locations this month. www.marthafrankel.com.