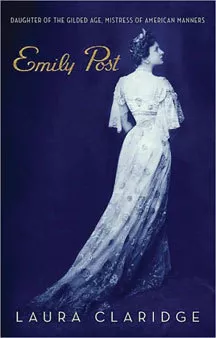 Emily Post: Daughter of the Gilded Age,Mistress of American MannersLaura Claridge, Random House, 2008, $30
Beyond the ambition that made her one of the most famous and respected women of the 20th century, Emily Post was concerned with keeping things pleasant. Though her name would come to evoke stiff formality and sharp reproof, this is a misapprehension quite at odds with her message. Which fork for the truffles and which for the terrapin made little difference to her, and as we learn in Laura Claridge's biography, Post's elbows were apt to rest on the table.
First published in 1922, Post's book Etiquette fixed its gaze on the upper reaches of the class war. The rhetorical conflict between old and new money is allegorized by characters with names such as Bobo Gelding and Richan Vulgar—dramatis personae that charmed F. Scott Fitzgerald and tutored multitudes. Curiously, the book is second to the Bible as the one most stolen from public libraries.
At 50, Post had already published five novels when the editor of Vanity Fair suggested she write a how-to of social correctness. Although, as Claridge demonstrates, the role of manners guru was one she had long coveted, Post cultivated the myth of her reluctance, as if to imply the project were a perfect instance of noblesse oblige. Post's competitor for the mantle, Lillian Eichler, who was only 19 and the daughter of immigrants, marketed her own bestseller with ads that showed humiliating gaffes bringing doom on upward strivers. To Post's mind, making people feel ashamed of their lack of grace was in itself rude enough to disqualify Eichler from any claim of expertise.
Post's father was the architect Bruce Price, who designed the first steel-framed skyscraper as well as the elite Hudson Valley enclave Tuxedo Park, where his daughter spent her formative years in a whirl of high society partying that would inform her life's work. Although Claridge does not indicate much in the way of spiritual proclivities, one of Post's novels was based on Rhinebeck's Victorian-era occult scene, and it is interesting that years later, during a radio talk on hospitality, she would digress on Gurdjieff's enneagram, an esoteric graphing of personality types. As a precocious teen, she was a valued assistant to her father, and though not degreed, was herself practically an architect. She produced a serious volume on interior design and even debated Edward Steichen, championing personal eclecticism in response to the vogue of modernist austerity. For Post, who designed her own clothes, the understanding that we have it in our own hands to beautify our lives was axiomatic; in her do-it-yourself ethic she anticipated our other great polymath of domesticity, Martha Stewart.
Post was married to a duck-hunting, yacht-obsessed broker—a man with whom she shared no interests—and then rather scandalously divorced in a typical Gilded Age scenario involving a blackmailer and a showgirl. Claridge is thorough on the moral complexities and sifts through Post's oeuvre to deduce her sentiments. Post was stoically, though perhaps not bitterly, silent on the matter; even to her children she would never mention Mr. Post again.
Claridge vividly renders her subject's milieu and credibly offers up some of Post's biggest self-realizations. It was at Mark Twain's 75th birthday party, Claridge suggests, that as a young novelist among other sisters in the art, Post had a liberating glimpse of her would-be path. Her friend Juliet Morgan (daughter of J.P.) had already warned her, "Please be careful, won't you? It would be a great pity if you became a Bohemian." Claridge slices through the subtleties with the same ease as Post herself.