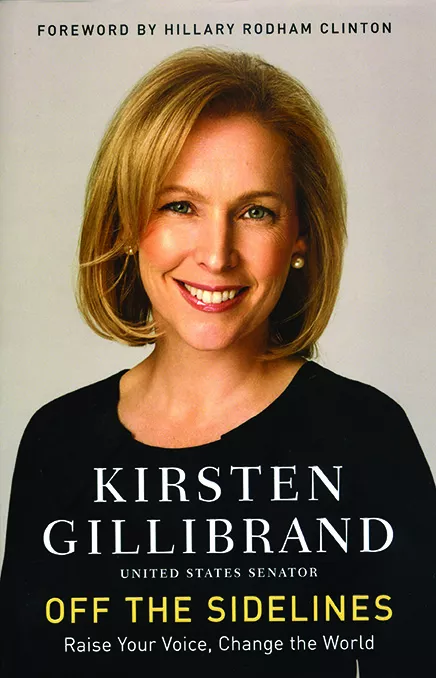 In these two timely books, Senator Kirsten Gillibrand and Fordham law professor Zephyr Teachout expose unsavory aspects of American politics. Gillibrand engages via her own remarkable story-in-progress, while Teachout relates a jaw-dropping history of lobbying and bribes at the highest levels of US government. Both women are expectation-defying comers; Gillibrand's 2006 win over a Republican incumbent for New York's 20th district congressional seat was a historic upset, and Teachout's 2014 grab for the Democratic gubernatorial nomination, while unsuccessful, went better than expected.
Albany-born Gillibrand's Off the Sidelines is a candid memoir of an ambitious Type A personality whose father, a renowned Republican lobbyist, nicknames her "Loudmouth"; her mover-shaker mother and grandmother inspire her to use her natural chutzpah to gain political power. During Gillibrand's stint as a high-powered lawyer in Manhattan, she encounters gender bias, which she ultimately challenges. A life-changing encounter with Hillary Clinton clarifies her call to service, and she works on Clinton's 2000 Senate campaign. After Obama appoints Clinton secretary of state, Governor David Paterson selects Gillibrand, a happily married mom of two, as her replacement. She wins a second term in a landslide, making a name as an effective crusader against sexism and lax attitudes toward rape, all while regularly making dinner for her family. While her superpowers sometimes make her seem unreal (especially to struggling parents), she endeavors to reveal her own foibles, including her compulsions to drop the F bomb and micromanage her loved ones.
Teachout isn't quite so personal. Corruption in America is a lively textbook history of the bane of her professional life: political malfeasance. With infectious zeal, Teachout offers interesting, if occasionally dry, anecdotes detailing fights to keep our republic from becoming a plutocracy. The story begins with France's King Louis XVI's gift of a diamond-encrusted snuffbox to Benjamin Franklin in 1785. This exchange represents two worlds colliding—the old, crooked European monarchy and the emerging American democracy, founded on a refusal to allow such influence to distract representatives from their constituents. Thereafter, various cases chipped away at this ideal of influence-free democracy. The most devastating case, Teachout emphasizes, is Citizens United, which redefines the word "speech" as "money," a travesty about which, she says, we should all be deeply concerned.
These two distinct voices offer vigor and hope to the political conversation, a welcome change to the numbing racket of sound bites and tweets, which, like these two women, history did not predict.